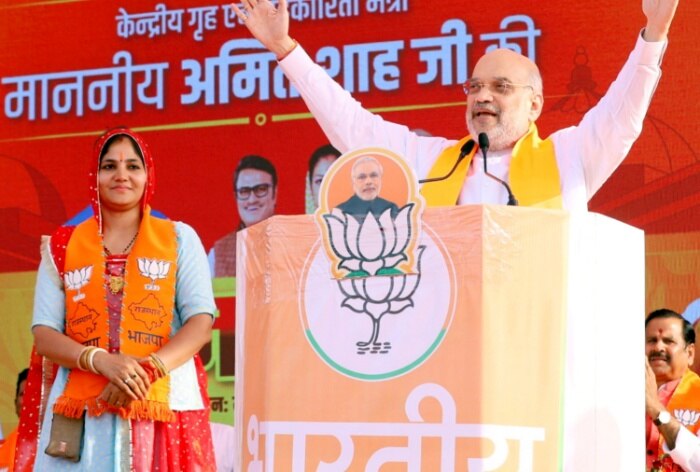 Amit Shah addressed three rallies in Kuchaman, Makrana and Nagaur in support of the party candidates for November 25 assembly elections in Rajasthan.
Jaipur, Rajasthan: Union Home Minister Amit Shah had a narrow escape on Tuesday when a specially-designed 'rath'  or chariot he was travelling in came into contact with an electricity wire in Rajasthan's Nagaur.
According to reports, the incident took place in Amit Shah's cavalcade was moving towards Parbatsar from Bidiyad village in Nagaur district where the Home Minister was scheduled to address an election rally.
While passing through a lane with shops and houses on both sides in Parbatsar, the upper portion of his 'rath' touched the power line which led to a spark and the subsequent snapping of the wire, news agency PTI reported.
A video of the incident also surfaced online.
WATCH the video here: (Note: India.Com could not verify the veracity of the video)
परबतसर , नागौर

गृहमंत्री अमित शाह का रथ बिजली के तार से टकराया ,
बड़ा हादसा होने से टला, परबतसर के अंदर से यात्रा निकाल रही थी इस दौरान यह हादसा हुआ, रथ टकराने के बाद निकली चिंगारियां, हादसे में बाल बाल बचे अमित शाह, pic.twitter.com/wzAyWQzxvN

— News live Today(Official). (@Newsliveto88373) November 7, 2023
Following the mishap, Amit Shah's cavalcade was immediately halted by his security officers and electricity was snapped in the area. The Home Minister was quickly shifted to another vehicle in which he moved to Parbatsar and addressed the rally.
Shah addressed three rallies in Kuchaman, Makrana and Nagaur in support of the party candidates for November 25 assembly elections.
Meanwhile, Rajasthan Chief Minister Ashok Gehlot said an inquiry will be conducted into the incident.
In Jaipur, CM Gehlot told reporters at a press conference that an inquiry into the incident will be ordered.
PM Modi 'crushed' appeasement politics, says Shah
Earlier, Shah, while addressing a rally in Makrana launched a scathing attack against the Congress, claiming that the ruling party's appeasement politics has led to murders of scores of youths in Rajasthan.
Shah further stated that Prime Minister Narendra Modi has "crushed" appeasement politics in the entire country and BJP will do the same in state if voted to power.
"PM Modi crushed the appeasement politics by banning the PFI in the whole country. Krushna Valmiki was beaten to death in Jhalawad. In Alwar, the 300-year-old Shiv Temple was destroyed. In Salasar, Ram Darbar was bulldozed. Gehlot Sahab, the people of Rajasthan are not with you because it knows that if you come into power again, then you will revive the PFI," Amit Shah said in Makrana.
"Kanhaiya Lal Teli was beheaded and murdered. Under their (Congress) rule there have been riots every now and then. Many youths like Kanhaiya Lal were murdered because of Ashok Gehlot's policy of appeasement."
Amit Shah attacked the Gehlot-led Congress government over the increasing cases of crime against women in the state and said, "Rajasthan is at the top in crime against women. Every day, 22 cases of crime against women are registered. And it doesn't affect Ashok Gehlot at all. PM Modi gave 33 per cent reservation and gave respect to 'Matri Shakti'."
"Paper leaks"
He also alleged that the state Government had created a world record in paper leaks.
"A world record was created by the Congress government in terms of the record of paper leaks. Three papers are leaked every year. Every paper of the Public Service Commission is leaked in the state. More than fourteen papers leaked in four years have served to corrupt the future of lakhs of youth. Constable recruitment paper leak, high court LDC recruitment paper leak, medical officers paper leak, CHO paper leak, Librarian recruitment paper leak, forest guard recruitment paper leak etc are examples of Congress government functioning" the Home Minister said.
"Gehlot did not say anything in paper leaks. Gehlot ji, a young man, works hard for two and a half to three years for one paper. And by leaking the paper, you provide employment to the Congress party's sycophants," Amit Shah further said.
"We will make such arrangements that there will be no paper leak in Rajasthan, " he said.
In the 2018 assembly elections, the Congress won 99 seats while the BJP won 73 seats in the 200-member house. Ashok Gehlot came to power with the support of BSP MLAs and independents.
Rajasthan will go to polls on November 25, the counting of which will take place on December 5 along with four other state assembly elections.
(With inputs from agencies)