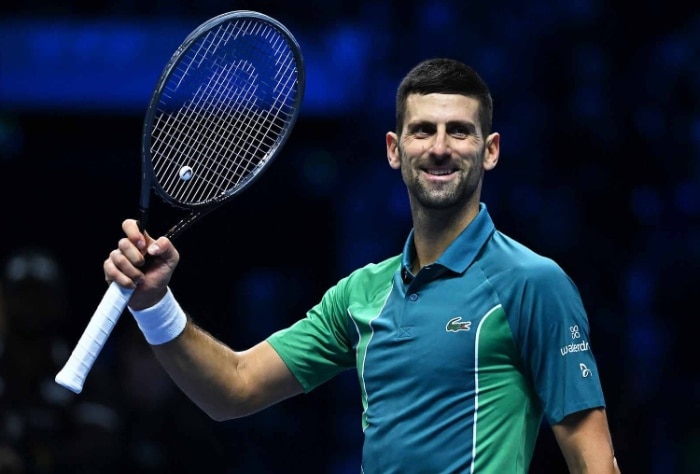 The 36-year-old Djokovic had already moved ahead of previous record holder Pete Sampras (six years at No. 1) two years ago.
New Delhi: Novak Djokovic patted his chest, crouched down, placed his right hand on the court and looked inward. It was clearly a moment to cherish for the 24-time Grand Slam champion after securing the year-end No. 1 ranking for a record-extending eighth time.
Djokovic needed only one match win at the ATP Finals 2023 to be sure of keeping the top spot and he did it in his opener, beating Holger Rune 7-6 (4), 6-7 (1), 6-3 in a match spanning more than three hours on Sunday and into Monday morning.
"It was a very emotional and tough win because of the significance of tonight's match," Djokovic said. "That was added pressure, and attention."
"It means a lot," Djokovic added. "You could see there was a lot of emotions on the court. I could feel it. I was very eager to win tonight's match and get that monkey off my back."
The 36-year-old Djokovic had already moved ahead of previous record holder Pete Sampras (six years at No. 1) two years ago.
Carlos Alcaraz took the honors last year. But Djokovic bounced back this year by winning three of the four major titles and finishing runner-up to Alcaraz at Wimbledon.
"It always has been a huge objective and huge goal of mine to be No. 1 in the world. Other than Grand Slams, that's what counts the most," Djokovic said. "To finish off the year as No. 1 at this stage of my life and career is something really amazing."
After this tournament, Djokovic will become the first player to hold the No. 1 ranking for 400 weeks, with Roger Federer at 310 the only other man to eclipse the 300-week mark.
If Djokovic raises the trophy next weekend, he'll break a tie with Federer and capture a record seventh title at the tour finals.
"A big goal is achieved; everything else now is a bonus," Djokovic said.
Djokovic has won 19 straight matches since his five-set loss to Alcaraz in the Wimbledon final in July.
Earlier in the same group, Jannik Sinner beat Stefanos Tsitsipas 6-4, 6-4.
Djokovic ended a close first set with a blazing forehand return winner — then flexed his right biceps and held the pose for a few moments before unleashing an authoritative fist pump.
The 20-year-old Rune was making his debut at the season-ending tournament for the year's top eight players, and he took a set off Djokovic for the fourth time in five career meetings.
Djokovic also beat Rune in three tight sets at the Paris Masters this month.
After Djokovic gave up an early break in the third, he broke two rackets with his foot before sitting down for the changeover. But he quickly regained his composure — and the lead — before finishing the match off shortly after midnight.
Matches in the other group on Monday feature Alcaraz vs. Alexander Zverev and Daniil Medvedev vs. Andrey Rublev.
The top two finishers in each group advance to the semifinal.