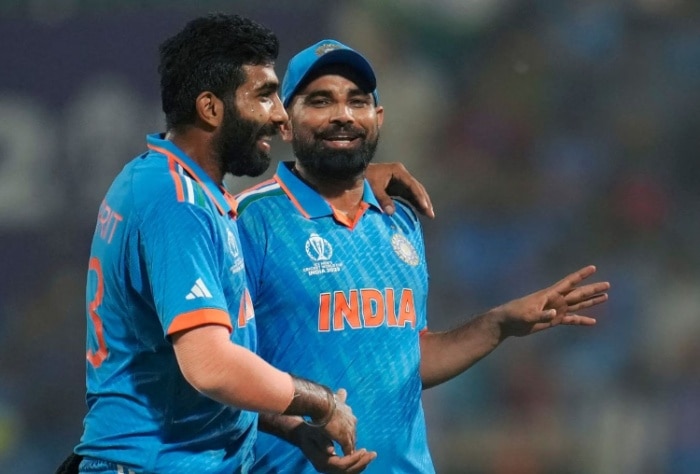 Both Indian pacers, Mohammed Shami and Jasprit Bumrah, have taken 16 and 15 wickets, respectively, in the ODI World Cup 2023 so far.
New Delhi: Former Indian pacer and 2007 World T20I and 2011 ODI World Cup winner S. Sreesanth reckons that star pacer Mohammed Shami is getting wickets because of Jasprit Bumrah. However, he heaped praise on the 33-year-old pacer for his impressive outing in the ongoing edition of the ICC ODI World Cup 2023.
Both the Indian pacers are having a dream run in the ongoing World Cup edition, as Mohammed Shami has taken 16 wickets in just 4 matches while Jasprit Bumrah has taken 15 wickets in the 8 matches they have played so far.
Bumrah has been the most effective bowler at the start of the innings, whereas Shami has been the standout pacer for India in the middle overs by providing crucial breakthroughs. Both pacers are leading the Men in Blue attack with their lethal bowling. Shami is the leading wicket-taker for India, while Bumrah is the second-highest wicket-taker for India.
In a recent discussion session on Sportskeeda's YouTube channel, Former Indian pacer Sreesanth said about the Indian pacer Shami that Shami is making every batter do shimmy and also he praised Bumrah that he is bowling really well. "Shami is making every batsman do shimmy. The batters just can't understand what is happening."
However, the 40-year-old Sreesanth thinks that Jasprit Bumrah has a big role in Mohammed Shami's wicket-taking success and has played a big part in it. "Bumrah is bowling really well, but is not getting that many wickets. However, I would say that the other bowlers are getting wickets because of Bumrah. If he doesn't bowl well at the start, things won't be easy for the ones who will be bowling after him," Sreesanth commented.
S. Sreesanth also expressed his thoughts on Bumrah that he would be even more lethal in the knockout stages of the ODI World Cup 2023. While the 40-year-old Sreesanth said Shami-Bumrah is the best fast bowling duo. "Bowling partnerships is very important and I feel because of the way Bumrah is bowling, it is helping the other bowlers a lot. In the important matches like the semi-final and the final, it will be Boom Boom Bumrah. In Fortnite games, there are duos. [Shami-Bumrah is the] Best fast bowling duo," he stated.