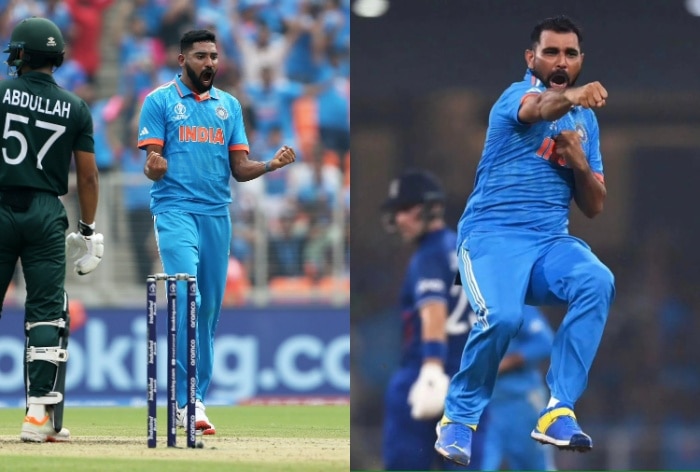 Mohammad Shami has taken nine wickets for India in two ODI World Cup 2023 games so far, including a five-wicket haul.
New Delhi: Former Australia all-rounder Shane Watson felt Mohammed Shami claimed the spot of fellow pacer Mohammed Siraj after the former took nine wickets including a fifer in just two games in the ongoing ODI World Cup 2023. Shami, who was on the bench in India's first four games, came into the side against New Zealand replacing Shardul Thakur and instantly took a match-winning five-wicket haul. The veteran speedster took a four-wicket haul against England in the next game to consolidate his place in the playing XI.
The Bengal pacer is India's third-highest wicket-taker in the ODI World Cup, taking 40 wickets in 13 innings so far. Only Zaheer Khan (44) and Javagal Srinath (44) are ahead of Shami. Watson opined that it is a great headache to have for the Indian team management.
"It's a great problem for India to have. That's a sign of a team that's in incredible form where all the players are putting their hands up and playing at their best. In my mind, Shami has taken over Siraj's spot because of the way he's bowled in the last two games. He's been incredible," Watson said.
In contrast, Siraj played all the six games for India so far and took six wickets. Watson, who had a great experience of playing in India, courtesy IPL, also played Shami in his career and stated the Gujarat Titans pacer is difficult to play when the latter is at his best.
"When Shami is at his best, as we saw against England, he's just so difficult to play. He can beat any batter on the outside or the inside. And because his length is so accurate, it's always hitting the stumps. He's always in there asking questions.
"It was unfortunate that Hardik went down injured. But that meant that Shami got an opportunity, and for me, he's surpassed Siraj because of the way he's been bowling," Watson added. Meanwhile, is is being reported that Hardik Pandya will be rejoining the Indian squad in Mumbai before the Sri Lanka game.
Pandya had sustained an injury against Bangladesh and missed the games against New Zealand and England.