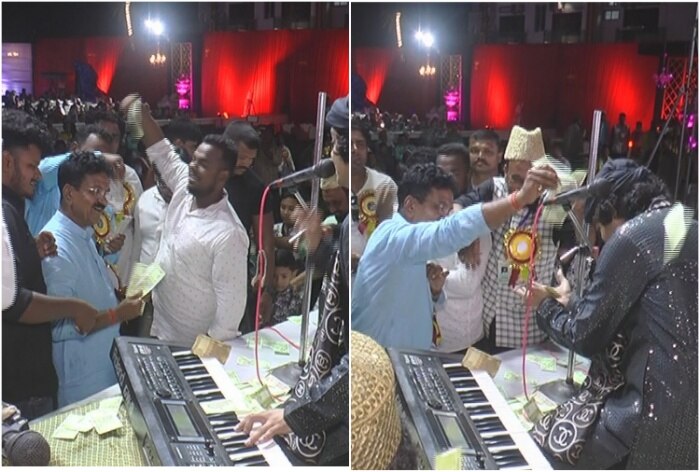 Odisha labour minister Sarada Prasad Nayak was seen showering money at a singer and drawing blood from a volunteer at a donation camp in viral videos, sparking a row.
Odisha Viral News: Odisha minister Sarada Prasad Nayak on Wednesday triggered a controversy after videos of him showering money at a Qawwali singer at a religious event and drawing blood from a donor at a blood donation camp in Sundergarg district, went viral on social media platforms.
In the viral clips, Sarada Nayak, the minister of Labour and ESI in the Chief Minister Naveen Patnaik-led Odisha government, can be seen showering money on during a Qawwali event and drawing blood from a volunteer at a blood donation camp. Both are separate incidents, however, the videos surfaced on Wednesday and stirred a storm on social media platforms.
In one of the videos, purportedly from a blood donation camp at the Rourkela Government Hospital on Monday (October 16), Nayak can be seen using a needle to draw from a donor even as nurse meant to do the same is standing there.
Nayak's actions stirred a controversy as many questioned how the Rourkela MLA, who has no experience in the medical field, could draw blood from a donor without any prior experience. However, Nayak defended his actions, claiming that the donor asked him to do so and he merely respected his wishes.
"The donor requested me to draw blood and I respected his wishes with the help of a nurse. During the Covid-19 pandemic, when people were afraid to come outside, I worked with the health workers for 24 hours," Sarada Nayak told reporters after the video went viral.
Showering money at Qawwals
Meanwhile, in another video, the Biju Janata Dal (BJD) leader can be seen showering cash at Qawwali singers during a music programme organised at a hotel in Sundargarh district on Tuesday.
Justifying his actions again, Sarada Nayak said: "The renowned Qawwali singer was singing the glory of the country and the audience wanted to honour him. They requested me as a public representative to honour the singer. I offered him some cash which is purely from my hard-earned money. It is unfortunate that the matter has been portrayed in a bad light."
The BJD leader was also seen dancing on the stage.
On this, Nayak said, "I can put steps in dance numbers since my student days. It was a festive occasion. The people requested me to dance and I just kept one or two steps to the wishes of the people. I am a conscious citizen and I am fully aware of my actions which are not intended to do any harm to society."
Nayak's political opponents, however, are not ready to buy his explanations.
Sundergarh BJP MLA Kusum Tete said, "It is said that such incident of showering money during Kawali programmes is common. But if the minister has showered money, it shows that he has no dearth of money. He should offer money to people who are starving."
Stating that people consider money as a form of Goddess Laxmi, Tete wondered what message he is giving to the society.
Local Congress leader Biren Senapati said, "The minister considers that bad publicity is better than no publicity. So, in order to remain in the limelight, Nayak is doing all such acts."
(With PTI inputs)