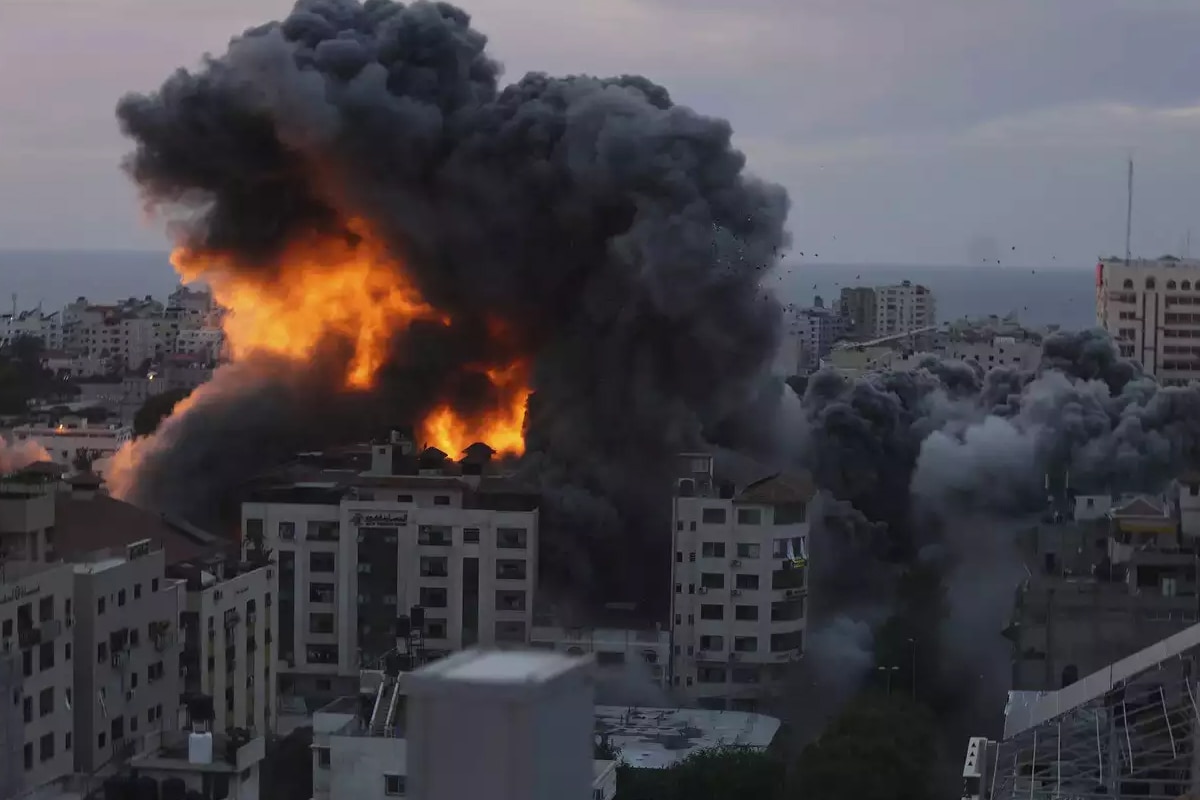 It has been a month of the Israel Hamas War today, on November 7, 2023. PM Netanyahu has declined a general ceasefire and has agreed to 'little pauses' for the release of hostages.
New Delhi: For years we have been studying about how wars have adversely impacted the mankind but unfortunately; these lessons have not led to stopping of the deadly attacks at various times, in different countries. Currently, the world is witnessing the harrowing effects of the ongoing war between Israel and Palestine. The Israel Palestine Conflict has been going on for decades but it turned into a full-fledged war after the Palestinian Islamist Group Hamas fired over 5000 rockets from the conflicted-Gaza Strip on Israel on October 7, 2023. Soon after, Israel began retaliatory attacks and it became a war which continues even today. Thousands of lives have been lost, many have been kidnapped and kept hostage, so many more are homeless and lost.. on both sides of the war. Today, November 7 marks a month of the devastating war. Take a look at the stance of the Israel PM Netanyahu, who refuses to announce general ceasefire, the casualties till date and a timeline of these destructive attacks..
PM Netanyahu Refuses Ceasefire, Agrees to 'Little Pauses' For Release of Hostages
The Prime Minister of Israel, Benjamin Netanyahu has been vocal about the attacks by his country to 'finish the Hamas terrorists' and has now, in a latest statement said, that they are not thinking about a general ceasefire and will not do that. PM Netanyahu told ABC News, "I don't think there's going to be a general ceasefire. As far as tactical little pauses – an hour here, an hour there – we've had them before. I suppose we'll check the circumstances in order to enable goods, humanitarian goods to come in, or our hostages, individual hostages, to leave."
Israel Schools To Hold Events To Mark One Month Since Hamas Attacks
Israel's education system will the one month anniversary of the October 7, 2023 Hamas terror massacre. This was a joint decision of the Minister of Education and the professionals of the Ministry of Education, the national parents' leadership and the student and youth council. Israel's education system will mark Tuesday, November 7, 2023, one month after the events of 7/10, on the morning of the Simchat Torah holiday, and the beginning of the "Iron Swords" war, in which Hamas enacted a brutal attack on the State of Israel. Approximately 1,400 people were murdered in cold blood and more than 240 were kidnapped by Hamas and taken hostage in Gaza, including dozens of girls and boys.
The education system will honor the memory of the fallen and murdered, and pray for the safety of the abducted and missing. The education system will convey a message of growth, hope and faith in the ability of Israeli society to pick up the pieces, to rise from the disaster, to grow renewed strength, to rehabilitate and rehabilitate.
Israel-Hamas War: Casualties Till Date
The ongoing Israel-Hamas War has caused devastating losses of both life and property; the question about who is right and who is wrong persists but the number of lives lost in both Israel and Palestine is heartbreaking. According to the Health Ministry of the Gaza Strip, the Palestinian death toll has crossed ten thousand; the number of deaths in Hamas-attacked Israel on October 30, according to officials, is more than 1,400 people including children and 4,500 people have been injured.
Israel-Hamas War: Timeline
October 7, 2023
Hamas Fired 5000 Rockets in Southern and Central Israel
Israeli PM Benjamin Netanyahu declares, 'Israel Is At War'.
October 8, 2023
Hamas attacks All-Night Music festival, 260 bodies removed from venue.
October 9, 2023
Israeli Defence Forces (IDF) neutralised a number of terrorist infiltrators, its jet fighters struck 130 targets in Gaza Strip.
October 13, 2023
The IDF calls for "all residents of Gaza City to evacuate their homes" and "move south for their protection"; first chartered flight to evacuate Americans departs from Europe.
October 16, 2023
The White House announces that US President Joe Biden will visit Israel.
October 17, 2023
Israeli Air Raids kill 71 people in Gaza and an explosion in al-Ahli Hospital kills at least 500; IDF denies responsibility of blast.
October 18, 2023
Joe Biden arrives in Israel, holds press conference with Netanyahu.
October 23, 2023
Death toll in Gaza exceeds 5000; two hostages released by Hamas.
November 7, 2023
Israel PM Netanyahu denies ceasefire but will take tactical little pauses.