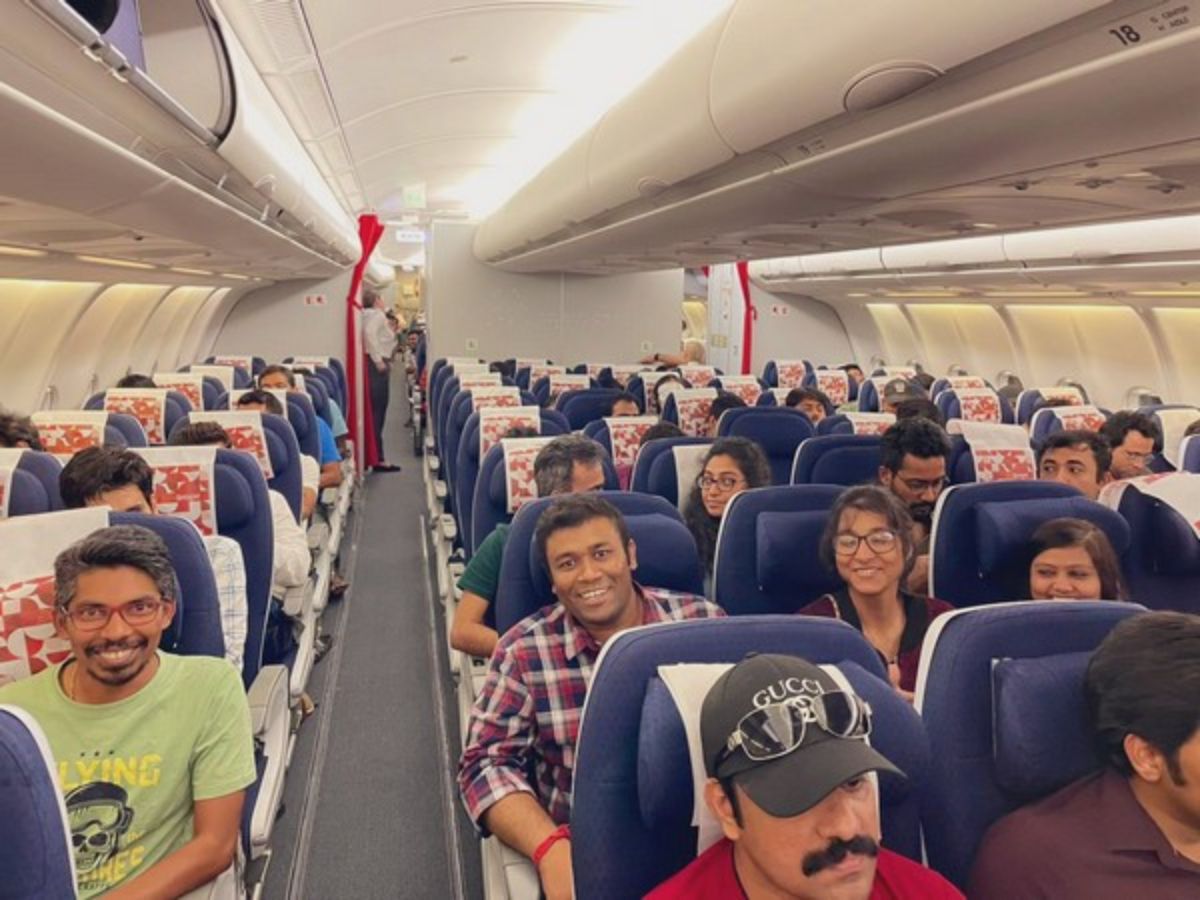 Operation Ajay, the mission of the Government to bring back Indian Nationals stuck in war-torn Israel, is going on and the fourth flight has departed from Tel Aviv. An inside video of the 3rd flight that landed in Delhi has been circulating on the internet, have look..
New Delhi: Israel and Palestine have been at war for several days and the darkness of terror does not seem to end in the two nations, anytime soon. There have been several attacks by both warring factions with the collective death toll passing 2,000. To save the Indians stuck in Israel in this war situation, Prime Minister Narendra Modi has launched a mission, Operation Ajay to evacuate and being back about 18,000 Indians stuck in Israel. Indians started registering for Operation Ajay on Thursday and a total of three flights have landed in Delhi and the fourth one is on the way. An inside video from the flight that landed in the national capital has been circulating on the internet; take a look at the video..
Operation Ajay: Inside Video Of 3rd Flight That Landed In Delhi
As mentioned earlier, an inside video of Indians in the third flight that landed in Delhi, has been circulating on social media. In the video, the 197 Indian Nationals that have been evacuated from the war-torn Israel, can be seen chanting 'Vande Mataram' and 'Bharat Mata Ki Jai' with full enthusiasm; the Indians look extremely happy and relieved on being back in their country. The flight departed from Tel Aviv to Delhi yesterday. Taking to X, the Indian Embassy in Israel said, "The third flight of #OperationAjay has departed from Tel Aviv to Delhi. Embassy wishes everyone on board a safe journey."
#OperationAjay moves forward.

197 more passengers are coming back to India. pic.twitter.com/ZQ4sF0cZTE

— Dr. S. Jaishankar (@DrSJaishankar) October 14, 2023
Speaking to ANI, Preeti Sharma, an Indian national who returned from Israel said, "I think it's a very good initiative by the Government of India. And I would like to thank our Minister Jaishankar for this initiative. I think India was among the first countries which evacuated…And more than us, I think our families are very happy and they would be much more thankful."
Another Indian national, Lalit said that it was a "true evacuation" for him."This initiative is good. I was stuck there…I had booked flights, but my six flights got cancelled. My house lease had also expired. My daughter and wife were with me. This is a true evacuation for me. I am thankful to the Embassy and the Government of India…," he said.
Union Minister Kaushal Kishore received the Indian nationals evacuated from Israel at the Delhi airport."I thank and congratulate PM Modi, the Ministry of External Affairs…PM Modi is dedicated to the citizens of the country and Indian citizens are being brought here safely from Israel. They are happy after returning to their country," the Minister said.
Operation Ajay: 4th Flight With 274 Indians Taks Off From Tel Aviv
Under 'Operation Ajay', the fourth flight with 274 Indians onboard departed from Israel for India in the early hours of Sunday, External Affairs Minister S Jaishankar said.Taking to social media platform X, Jaishankar said that it was the second flight in a day to depart from Israel for India. "#OperationAjay 2nd flight of the day departs from Tel Aviv carrying 274 passengers," Jaishankar posted on X.
The Indian embassy in Israel is providing assistance to Indian companies and has set up a helpline for Indian citizens in need of assistance. The MEA had set up a 24-hour control room in view of the escalating conflict. The control room will help monitor the situation and provide information and assistance.
(Inputs From ANI)