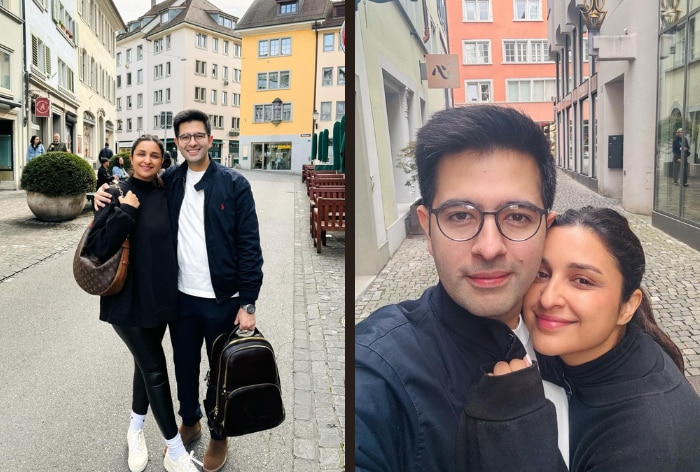 Parineeti Chopra wishes politician-husband Raghav Chadha on his 35th birthday with a heartfelt romantic post – See unseen photos!
Parineeti Chopra dropped some unseen photos to wish her politician husband Raghav Chadha on his 35th birthday. In the first photo, Parineeti and Raghav can be seen enjoying the cricket match. The duo flaunted their feet from their pre-wedding festivities in the second photo. Chopra held her husband close by his waist in the following photo and it is the cutest thing on the internet today.
The aww-dorable birthday wish for Aam Aadmi party's representative Raghav Chadha read, "God has given me, my Ragaii! Your mind and intelligence amaze me. Your values, honesty, and faith make me want to be a better human being. Your commitment to family makes me feel blessed every day. You're a vintage gentleman in a whacko world. Your calm is my medicine." She concluded by saying "Today is officially my favourite day because you were born today, for me. Happy birthday, husband! Thank you for choosing me back.."
Parineeti Chopra's Heartfelt Wish For Husband Raghav Chadha
The post garnered immense love from their fans and followers. One of the users wrote, "Very cutely written. Happy birthday to ur love." Another user wrote, "You guys are so cute 🥰 (sic)."
Last month, Raghav wished his wife with a heartfelt post on her birthday. Raghav wrote "You light up my life like a superstar, Paru! Just a smile from you can make my challenging and chaotic life bearable. You bring SO much joy into my world… On this special day, I want to celebrate the amazing woman that you are… Here's to more laughs, more love, and more unforgettable moments together…like these beautiful ones of our first year together. Happy Birthday, Wifey!" With a string of images, Raghav shared beautiful photos with his actor-wife. One of our pictures was where Partneeti held a 'reserved' tag.
Raghav Chadha's Birthday Wish For Wifey:
Parineeti-Raghav Tied Knots in Udaipur
Parineeti and Raghav tied the knot earlier this year in Udaipur, Rajasthan in the presence of family and friends. The couple swooned our hearts with their wedding photos and the caption read, "From the very first chat at the breakfast table, our hearts knew. Been waiting for this day for a long time .. So blessed to finally be Mr and Mrs! (sic)."
Parineeti-Raghav's Wedding Photos:
Happy Birthday, Raghav Chadha!
Good news! India.com is now on WhatsApp Channels. Subscribe today by clicking the link and stay updated with the latest news on entertainment and lifestyle. Click here!