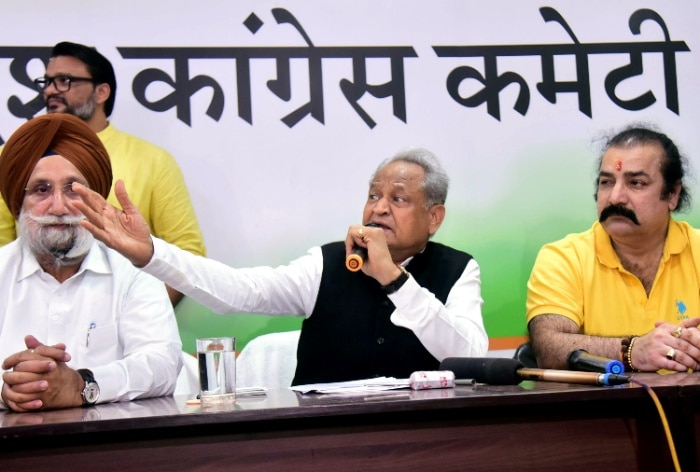 Ashok Gehlot said the party's election manifesto will be released in coming days in which more announcements will be made ahead of the Rajasthan Assembly Elections.
Rajasthan Assembly Elections 2023: Incumbent Chief Minister Ashok Gehlot Friday announced five guarantees ahead of next month's assembly elections in the state. Gehlot guarantees included providing laptops or tablet PCs to college students, bringing a law on Old Pension Scheme and purchasing cow manure from dairy farmers, if the Congress was re-elected in the November 25 polls.
Addressing a press conference in Jaipur, CM Gehlot promised school education in English medium, buying cow dung at Rs 2 per kg under 'godhan scheme' and Rs 15-lakh insurance cover for losses in natural disasters.
Gehlot said a law will be passed to ensure the Old Pension Scheme for government employees so that no future dispensation can stop OPS. He also said students taking admission in government colleges will be given a tablet or a laptop in the first year.
The Congress veteran claimed Prime Minister Narendra Modi is "following our guarantee model".
Gehlot's five guarantees, announced at a presser held at the Congress war room in Jaipur, are in addition to two guarantees — cooking gas cylinders at Rs 500 for 1.05 crore families and an annual honorarium of Rs 10,000 to the woman head of a family in installments — already announced by him at Priyanka Gandhi Vadra's public rally in Jhunjhunu on Wednesday.
Gehlot said the party's election manifesto will be released in coming days in which more announcements will be made.
'ED on prowl more than stray dogs'
Meanwhile, the Chief Minister also lashed out at the BJP-led Central government for the alleged "misuse" of Enforcement Directorate (ED).
"A chief minister (Bhupesh Baghel) had to say that more than dogs, it's the ED that is on the prowl in the country. (Desh me kutton se jyada ED ghum rahi hai). What could be a bigger misfortune than this?" he said.
"Whatever comment he must have made, you can understand that he must have done that in great pain," Gehlot told the press conference. "You (agencies) have become a political weapon. Modi ji, you do not understand, your countdown has begun."
The ED raided premises of state Congress chief Govind Singh Dotasra on Thursday.
Gehlot said the ED targeted the Congress leader because he is quite vocal against the BJP.
The polls to the 200-member Rajasthan assembly will be held on November 25 .
(With PTI inputs)