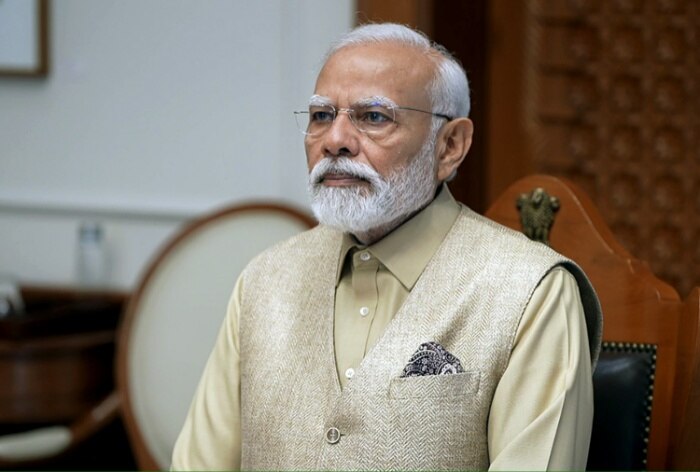 Expressing shock over the tragic deaths, PM Modi said the civilian casualties in the ongoing Israel-Hamas War were a matter of serious concern and those involved should be held responsible.
New Delhi: Prime Minister Narendra Modi on Wednesday condemned the attack on a hospital in war-torn which was hit by a missile amid the raging Israel-Hamas war resulting to the deaths of hundreds of injured Palestinian civilians.
Expressing shock over the tragic deaths, PM Modi said the civilian casualties in the ongoing conflict were a matter of serious concern and those involved should be held responsible.
On Tuesday, Gaza-based Hamas militant group said the al-Ahli hospital in Gaza was allegedly bombed by Israel killings hundreds of civilians. A massive explosion occurred at the al-Ahli hospital where hundreds of civilian victims of the ongoing war between the Hamas and Israel were being treated.
Hamas attributed the blast to an Israeli air strike, but the Israeli military refuted the allegations and claimed it was it was not involved. The Israeli forces claimed that the blast was caused by a misfired rocket by Hamas.
Meanwhile, expressing deep shock over the civilian deaths, PM Modi said on X "Deeply shocked at the tragic loss of lives at the Al Ahli Hospital in Gaza. Our heartfelt condolences to the families of the victims, and prayers for speedy recovery of those injured."
"Civilian casualties in the ongoing conflict are a matter of serious and continuing concern. Those involved should be held responsible," the prime minister said.
Hostilities between Israel and Hamas began after armed Hamas militants based in the Gaza Strip launched an unprecedented attack on Israel by land, air, and sea on October 7. Since the start of hostilities, as many as 2,778 Palestinians have been killed.
Media reports have cited official Israeli sources as saying that at least 1,400 Israelis and foreign nationals have been killed in Israel.
POTUS Biden Arrives in Israel
Meanwhile, on Wednesday, US President Joe Biden arrived in Tel Aviv to meet Israeli Prime Minister Benjamin Netanyahu and show support to its Middle Eastern ally as Israel entered into the 12th day of war against the Hamas.
The US President was received by PM Netanyahu and President Issac Herzog on the tarmac. The usual formalities for such a visit, such as a greeting by the full Israeli cabinet and religious leaders, etc were not observed.
Biden on Wednesday departed for Israel from Joint Base Andrews, Maryland.
Security measures were significantly strengthened ahead of the US President's official visit to war-torn Israel.
To ensure the safety of the US President, several roads were closed and security personnel have been deployed in the city.
Earlier today, US National Security Council (NSC) coordinator for strategic communications, John Kirby, said that President Biden will call on Prime Minister Benjamin Netanyahu to ensure there is no further escalation in the ongoing war with terror group Hamas.
"When he talks to PM Netanyahu, he'll be asking some tough questions, as a true friend of Israel. He's also going to make it clear that we continue to want to see this conflict not expand, not deepen…He will address the humanitarian situation in Gaza, making it clear, that we want to see humanitarian assistance flow in," Kirby said.
Sharing further details of the President's visit to Israel, he said that Biden and PM Netanyahu will have a "very small, restricted," bilateral meeting, adding that the former will also engage with some families that lost their loved ones in the Hamas terror attacks.
Kirby, who was on board Air Force One en route to Israel, also brought up the explosion at the Al-Ahli Baptist Hospital in Gaza, that has claimed several lives, saying that Israel had already denied any involvement in the explosion.
(With inputs from agencies)