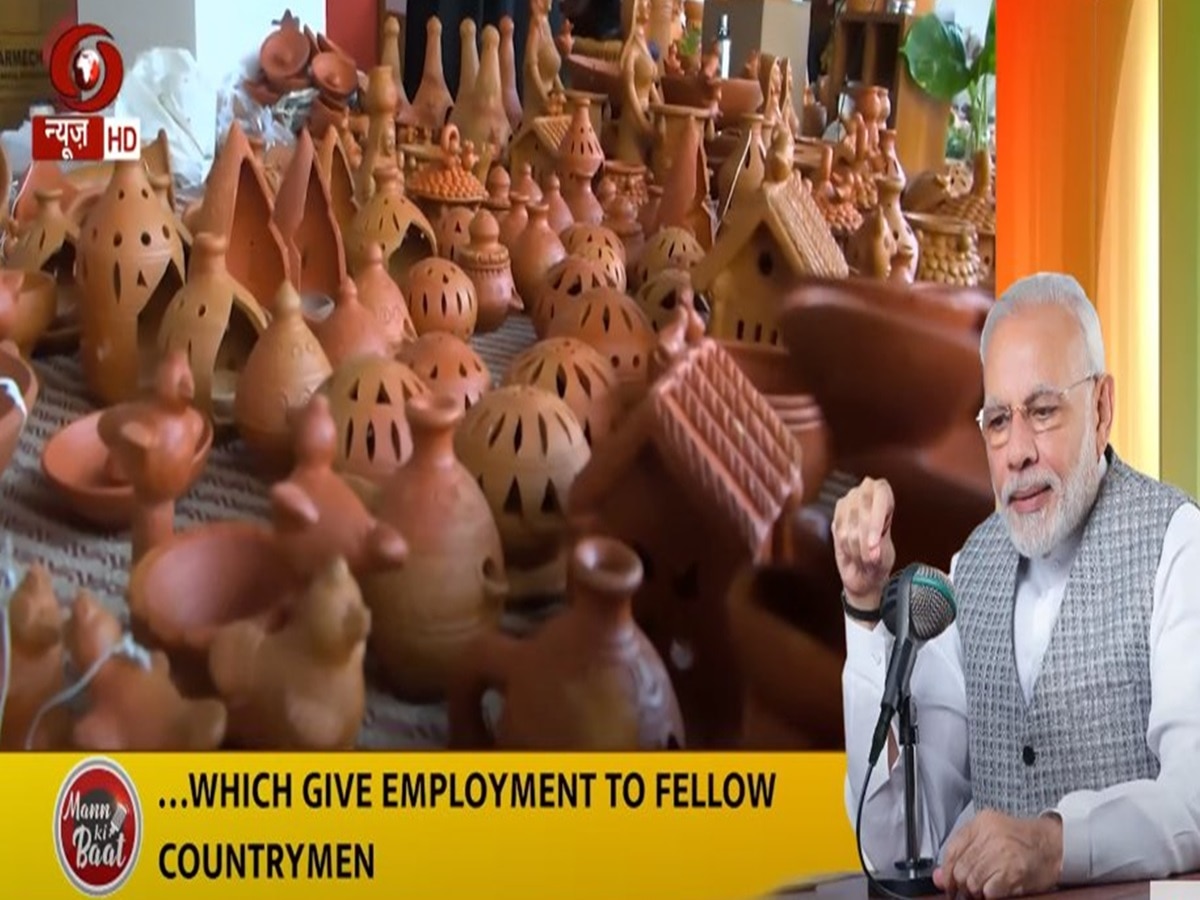 PM Modi on Sunday addressed the nation through his monthly radio show 'Mann ki Baat'. During his address, he once again pushed for local products amid the festive season.
New Delhi: In the 106th episode of Mann ki Baat, Prime Minister Narendra Modi, on Sunday, advocated for the use of local products during the festive season. "Like every time, this time too, in our festivals, our priority should be 'Vocal for Local' and let us together fulfill that dream; our dream in Aatmanirbhar Bharat. This time, let us illuminate homes only with a product which radiates the fragrance of the sweat of one of my countrymen, the talent of your of my country…which has provided employment to my countrymen in its making. Whatever e our daily life's requirements, we shall buy local," PM Modi said.
Like every time, this time too, during festivals, our priority should be 'Vocal for Local', says PM Modi during his 106th episode of Mann Ki Baat pic.twitter.com/F5WkKJhb2r

— ANI (@ANI) October 29, 2023
Mann Ki Baat: Sardar Vallabhbhai Patel's Birth Anniversary
PM Modi stated that 31st October holds special significance for countrymen as they celebrate the birth anniversary of India's Iron Man, Sardar Vallabhbhai Patel.
"We Indians remember him for many reasons and pay our respects. The biggest reason is his incomparable role in connecting more than 580 princely states of the country," PM Modi said.
He further informed that the Central Government will launch the MYBharat organization to provide an opportunity for youth to play an active role in various nation-building events.
"The foundation of a very big nationwide organization is being laid on 31st October and that too on the birth anniversary of Sardar Saheb. The name of this organization is – My Young India, i.e. MYBharat. MYBharat organization will provide an opportunity for the youth of India to play an active role in various nation-building events," the Prime Minister said.
Mann Ki Baat: Amrit Kalash Yatra
The Prime Minister also described the meaning of Amrit Kalash Yatras which is on its way to Delhi. "Recently, I had been requested to collect soil from every village and every house in the country. After collecting soil from every house, it was kept in a Kalash and then Amrit Kalash Yatras were taken out."
"This soil collected from every corner of the country, these thousands of Amrit Kalash Yatras are now reaching Delhi. Here in Delhi, that soil was poured into a huge Bharat Kalash, and 'Amrit Vatika' will be built from this sacred soil in Delhi," he added.
Mann Ki Baat: Tribal Pride Day
During his address, PM Modi also announced that the country will celebrate Tribal Pride Day on November 15.
"This special day is associated with the birth anniversary of Lord Birsa Munda. Lord Birsa Munda resides in the hearts of all of us. We can learn from his life what true courage is and what it means to stand firm on one's determination.