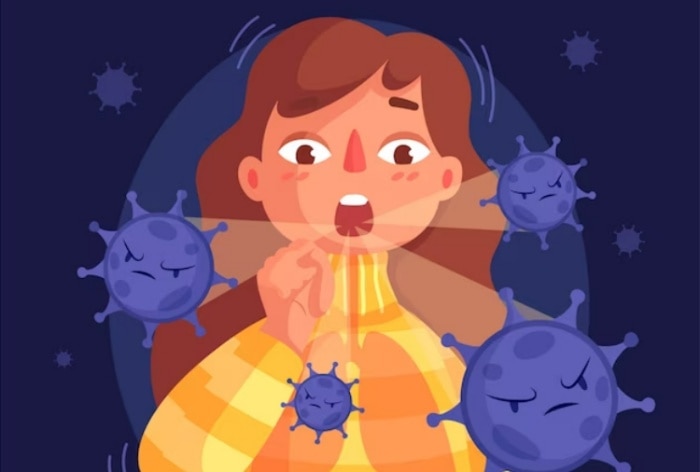 Pneumonia in Children: Pneumonia is a kind of acute respiratory illness that affects the lungs. It is the leading infectious cause of mortality for kids globally.
Pneumonia is a common respiratory infection caused largely by viruses and bacteria but sometimes by fungi and other organisms, affecting children of all ages and leading to outpatient visits and many hospitalisations. This infection spreads via nasopharyngeal droplets or aerosols spread from affected children or adults. Dr Naveen Saradhi, Pediatric pulmonologist at Rainbow Children's Hospital, Banjara Hills, Hyderabad said, "Children whose immune systems are immature (i.e. newborns) or weakened by undernourishment, or diseases like HIV, are more vulnerable to pneumonia. Children with pre-existing diseases are likewise, at a higher risk."
There is a seasonal pattern to some viruses while others run throughout the year. In India, we see an increase in pneumonia cases between June and January each year due to a combination of factors including the start of schools, the seasonality of the viruses, weather changes and so on. Since COVID we have seen a change in patterns and severity of the common pneumonias. Adenoviral infections and an increase in RSV and Influenza pneumonia in children have been observed. The cause of pneumonia outbreaks may be due to mutation in virus strains leading to increased infectivity and severity and a reduction in herd immunity which protects populations. Outbreaks of measles infection usually follow reduced immunisation levels of MMR vaccine in the community.
WHO and UNICEF integrated Global Action Plan for Pneumonia and Diarrhoea (GAPPD) suggest a combination of interventions such as:
Protection of children, including promoting exclusive breastfeeding and adequate complementary feeding to maintain adequate nutrition as malnutrition is a major risk factor
Prevention with vaccinations, hand washing with soap, reducing household air pollution, HIV prevention and antibiotic prophylaxis in immunocompromised individuals.
Early Pneumonia Detection And Treatment:
Lifestyle factors such as good personal hygiene, frequent hand washing, wearing of masks and avoiding large gatherings during outbreaks can help prevent the spread of pediatric pneumonia
It is important to keep homes well-ventilated and free of indoor pollutants such as fumes from open-fire cooking and tobacco smoking. Environmental pollution should be actively addressed by governments.
Cold damp and mouldy environments are a risk factor for pneumonia. Children should maintain an active lifestyle with exposure to adequate sunshine, fresh air and exercise.
Good nutrition plays a key role in preventing pneumonia due to its direct effect on immunity. Breastfeeding protects an infant from respiratory and other infections in many ways and should be actively promoted. Vitamin A, D, iron and micronutrient supplementation when required could similarly help boost immunity.
Vaccinations play an important role and while following the national immunisation schedule we should also consider the annual Influenza vaccine and additional vaccines in high-risk children.
If your child has symptoms of pneumonia such as a cold, cough, fever and difficulty in breathing you should go and see your pediatrician or local hospital and seek timely treatment.