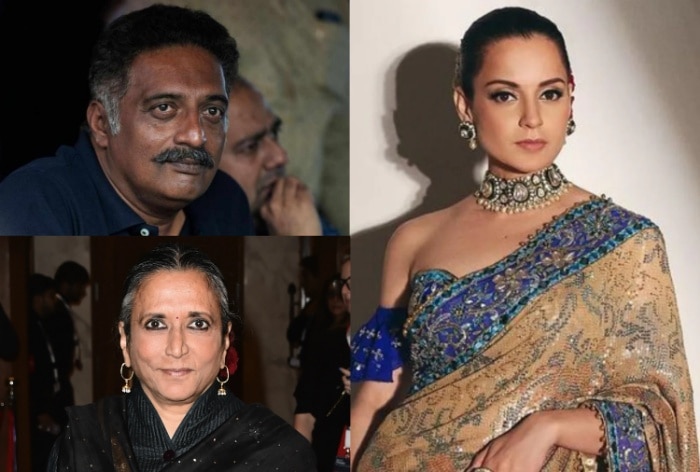 Prakash Raj and Deepa Mehta countered Kangana Ranaut over her views on low footfalls in theatres and Israel-Palestine conflict.
Prakash Raj-Deepa Mehta Unleash Scathing Attack on Kangana Ranaut: Kangana Ranaut is known for her views on nationalism and other issues concerning society. The actress is always unabashed and unfiltered while expressing her socio-political opinions. As her movie Tejas is based on patriotic theme, Kangana never hesitates while condemning terrorism and always calls a spade a spade. Howeever, Prakash Raj and Deepa Mehta, equally known for their strong statements on cultural and geopolitical issues are active on social media. Prakash, who has been critical of the Narendra Modi government has also slammed Akshay Kumar in the past. The latter had condemned Richa Chadha's statement on Indian army. Now, as Kangana urged audiences to come to theatres by pointing out at low footfalls, the Wanted and Dabanng 2 villain mocked her.
PRAKASH RAJ MOCKS KANGANA RANAUT:
India has got Independence just recently in 2014… please wait ..it will pick up.. #justasking https://t.co/1bb303NivF

— Prakash Raj (@prakashraaj) October 28, 2023
PRAKASH RAJ TAKES A SLY JIBE AT KANGANA RANAUT
Kangana had said, "Even before Covid, theatrical footfalls were dipping drastically post covid it has become seriously rapid. Many theatres are shutting down and even after free tickets and many reasonable offers drastic footfall decline is continuing. Requesting people to watch films in theatres and enjoy with family and friends or else they (theatres) won't be able to survive. Thanks (sic)." Prakash took a sly jibe at her and captioned his tweet as, "India has got Independence just recently in 2014… please wait ..it will pick up.. #justasking." His post was directed towards the Tejas actress' claim that the country got the real independence after the BJP government took over since 2014.
DEEPA MEHTA MOCKS KANGANA RANAUT'S MEETING WITH ISRAEL'S AMBASSADOR TO INDIA NAOR GILON:
OMG. Who let her loose? https://t.co/OeE687hXmA

— Deepa Mehta (@IamDeepaMehta) October 28, 2023
DEEPA MEHTA REACTS TO KANGANA RANAUT'S REMARKS ON ISRAEL-PALESTINE WAR
Kangana had also expressed her views on the Israel-Palestine conflict. Sharing Kangana's video with Israel's Ambassador to India Shri Naor Gilon where she said, "as a Hindu nation we stand with Israel," a user wrote, "'Muslims have so many countries of their own, so why can't Arabs give the Jews JUST ONE NATION of their own?', asks Kangana Ranaut in her meeting with the Israeli Ambassador." The actress had pointed out on how Jews don't have a nation of their own. Another Palestinian supporter quote tweeted the same and captioned it as, "This isn't even a joke. This is second hand embarrassing." Reposting the same, Deepa Mehta captioned her tweet as, "OMG. Who let her loose?" The filmmaker is known for her controversial movie Water which was heavily criticised for the portrayal of widows in India. Many had objected towards the wrong depiction of Indian culture and traditional values.
Good news! India.com is now on WhatsApp Channels. Subscribe today by clicking the link and stay updated with the latest news on entertainment and lifestyle. Click here!