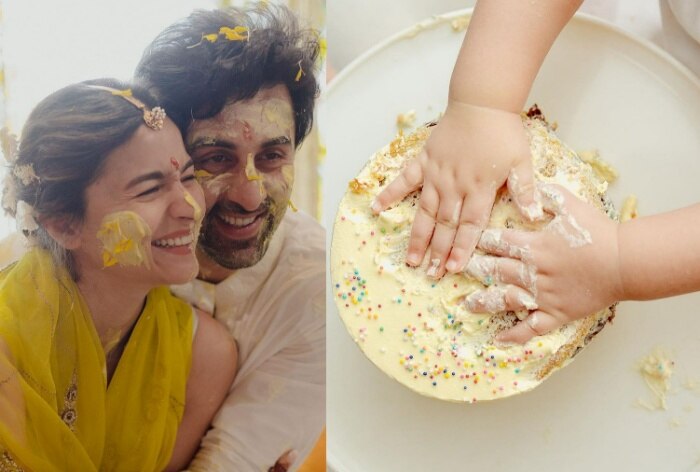 Alia Bhatt shares the most adorable post for her 'Tiger baby' Raha Kapoor as she turns 1 today. Check out the cute viral post here.
Mumbai: Alia Bhatt and Ranbir Kapoor's daughter Raha Kapoor has turned one today and the parents have a special wish for her. On Monday evening, the mommy Kapoor took to social media to share an adorable post for her even more adorable baby girl. Alia, who says she's living a more joyous life after the birth of her child, shared a few special photos on a special day. The celebrations hinted at a puja the couple did with Raha to mark the day.
In one photo, all three of them got clicked holding flowers in their hands while in another, Raha smashed the cake with her cute tiny hands. Alia also shared a clip of a small music box beautifully playing the iconic 'La Vie En Rose'. The National Award-winning actor explained the relevance of the song and wrote a lovely caption for her post. A part of the post read, "it feels like just yesterday we were playing this song for you while you were in my tummy kicking away.. (sic)."
She added, "there's nothing to say only that we're blessed to have you in our lives.. you make everyday feel like a full creamy yummy delicious piece of cake (sic)." Alia called Raha her 'baby Tiger' and posted cute emojis to conclude the post.
Check Alia Bhatt's Adorable Instagram Post For Baby Raha on Her 1st Birthday:
Alia and Ranbir got married on April 14 last year at their home in Mumbai. The wedding was a close-knit affair, attended only by their close friends and family members. In June of that year, the couple announced their pregnancy and welcomed Raha in November.
They have been going strong for over four years now. Both of them maintain that Raha has brought unprecedented love and luck to their lives and they have never felt happier before. On the work front, Ranbir is gearing up for the big release of his film – Animal – on December 1. It is directed by Sandeep Reddy Vanga and features Ranbir alongside Rashmika Mandanna, Anil Kapoor and Bobby Deol.
A very happy birthday to dearest Raha!