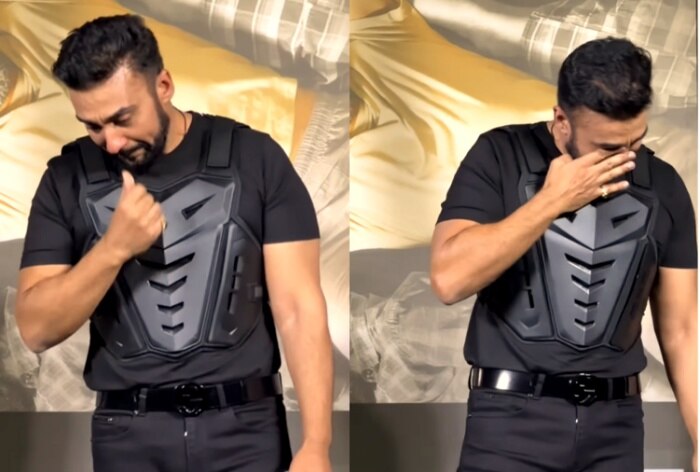 At UT69 trailer launch, Raj Kundra got emotional while talking to media. He said not to point out wife Shilpa Shetty, kids and family. Watch his viral video.
UT69 Movie: Shilpa Shetty's husband and businessman Raj Kundra has turned an actor now. On Wednesday, Raj released the trailer of his movie UT69 where he showed his side of the story in the jail. Raj Kundra, in the movie, has opened up about living in horrible conditions while he spent 63 days at Mumbai's Arthur Road Jail. For the unversed, Raj Kundra was arrested and named as a key accused in a pornographic case. At the trailer launch, Raj got emotional and shed tears while talking about those days when he was in jail and how Shilpa Shetty supported her not just as a wife but also as a best friend.
In 2021, Shilpa Shetty and her family were questioned about the case. There were trolling and memes on Twitter, Instagram, Facebook and YouTube that talked rubbish about Shilpa, Raj and their kids. Raj Kundra chose to talk in front of the media with his mask off. He cried on the stage while saying, "It was painful for my family. Mujhe bolo jo bolna hai yaar, mere biwi, bache, family pe mat jao yaar, kya bigaada hai app logo ka unhone? (Talk about me, say me what ever you want to. Don't go on my wife, kids and family, what have they done to you?)". Raj took a break, wiped his tears, and gathered himself within a few seconds. Paps and the audience also cheered him. Raj then lightened up his mood by calling himself the solo hero of his film, UT69.
Raj Kundra on why he used to wear face mask all the time?
In the same press conference, Raj shared the reason behind wearing face mask in public. He said, "I was wearing a mask only out of pain. The media trial was very painful. In fact, it was more painful than my legal trial. I don't blame the media because they were doing their job but it was so painful that I had to wear a mask and cover up. I didn't want to be seen or spotted or get my pictures clicked."
Watch an emotional video of Raj Kundra:
What is the meaning of UT69?
At the trailer launch of UT69, Raj Kundra shared the meaning of UT69. When a reporter asked him the meaning behind the film's name, he said it was his ID number in Arthur Jail, Mumbai. Another journalist asked about the relevance of 69 in the title. To which, Raj realised it has religious connotations. He was then asked if 69 has an innuendo attached to it. To this, Raj replied, "India mein do cheezein bikti hai and Bollywood mein bhi Shah Rukh Khan and sex."
Watch the trailer of UT69