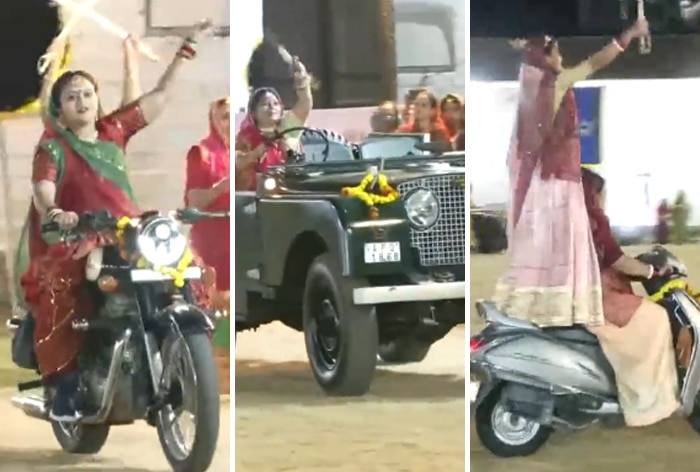 Talwar Ras was created to commemorate Rajput war heroes who died in the historic war of Bhuchar Mori (July 18, 1591).
Shardiya Navratri 2023: On the third day of the Navratri festival in Gujarat's Rajkot on Tuesday, women displayed remarkable enthusiasm as they performed 'Garba' while wielding swords on two-wheelers at Rajvi palace. The 'Talwar Ras' or 'Sword-wielding' is a traditional culture in Gujarat where women in traditional 'Rajputana' attires perform the unique Garba to honour Goddess Durga.
On the third day of Navratri, devotees worship Goddess Chandraghanta, who is the married form of Goddess Mahagauri. Known as 'Chandra-Ghanta', her name signifies a half-moon shaped like a bell.
#WATCH | Gujarat: Women in Rajkot perform 'Garba' on motorcycles and cars with swords in their hands, on the third of #Navratri (17.10) pic.twitter.com/AhbuiAwI7Y

— ANI (@ANI) October 17, 2023
What is 'Talwar Ras'
As per scholars of folk traditions of Gujarat, Talwar Ras was created to commemorate Rajput war heroes who died in the historic war of Bhuchar Mori (July 18, 1591). This is not the only Ras performed in Gujarat. Around six types of Ras are performed by various communities including the agrarian community, warrior community, seafaring community and even Muslim Maldhari community.
The description of Raas can also be found in various Puranas like Harivamsa Purana, Vishnu Purana and Bhagavad Purana. It typically involves 16-20 musicians and dancers with a set structure.
Morning 'aarti' performed across India
Meanwhile, morning 'aarti' was performed at temples across the country on the third day of Navratri. The temple 'pujaris' recited the prayers to Goddess Durga while a large number of devotees gathered to offer prayers and take part in the morning aarti. Maharashtra's Mumba Devi Temple in Mumbai also held 'aarti' to commence the third day of the nine-day Hindu festival of Navratri.
The temple echoed with the sounds of the temple bell and other instruments during the aarti.Morning aarti was also held in Gujarat's Umiya Temple in Surat. Devotees in Kerala celebrated 'Bommai Kolu' at Sree Dharma Sastha Temple in Thrissur.
The 9-day-long festival of Shardiya Navratri is intended for worshipping Maa Durga and her nine avatars, known as Navdurga. Navratri means 'nine nights' in Sanskrit. Hindus observe a total of four Navratris throughout the year. From Ashwin Shukla Paksha's Navami until the Pratipada, Shardiya Navratri is observed. While it is celebrated with great fanfare across the nation, distinct traditions are more commonly practised in different states.
In India, Navratri is celebrated in a wide range of ways. Ramlila, a celebration in which scenes from the Ramayana are performed, is organised in various parts of the country. The burning of King Ravana's effigies marks the story's conclusion on Vijayadashami.