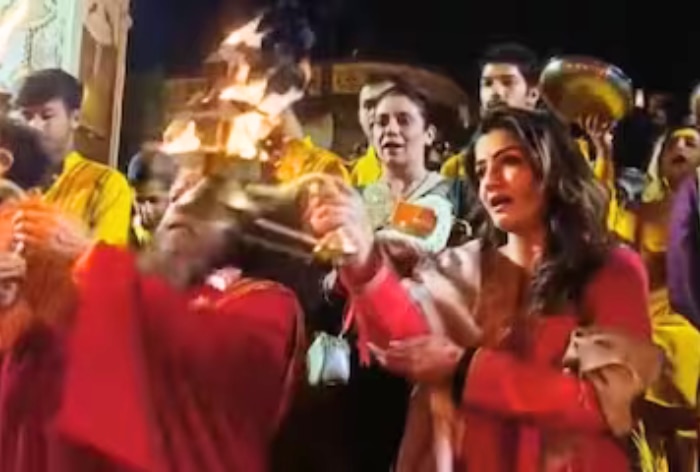 Actress Raveena Tandon, who is among the most well-known actresses in Bollywood, is in the headlines right now. On Thursday early morning, Raveena Tandon was seen at Rishikesh preforming Ganga Aarti.
Rishikesh: Bollywood's popular star Raveena Tandon was spotted among priests performing Ganga Arti during the early hours of Thursday in Rishikesh, Uttarakhand. In a video shared by ANI, the actress was spotted at Parmarth Niketan Ghat performing puja. Raveena looked stunning in a crimson glittering outfit and shawl during her unexpected trip to Rishikesh.
The Bollywood star was seen performing the puja as she sang and chanted bhajans led by the priest. The priests gave Raveena guidance on several occasions while they continued to do the aarti together. Her daughter Rasha Thadani accompanied her for the holy visit. Just a few days before Diwali, the KGF 2 actress surprised everyone by visiting Rishikesh, where she was spotted in all her divinity.
Raveena Tandon and Rasha Thadani together perform Ganga Aarti. Watch the video below
#WATCH | Uttarakhand: Actress Raveena Tandon performed Ganga Aarti at Parmarth Niketan Ghat in Rishikesh. (08.11)

(Video Source: Parmarth Niketan) pic.twitter.com/IrqxfcnJ1s

— ANI (@ANI) November 9, 2023
Raveena at Manish Malhotra's Diwali Party
On Sunday, November 5, 2023, Raveena arrived at fashion designer Manish Malhotra's residence to attend the pre-Diwali bash in Mumbai. The actress donned a dark green Anarkali with gold accessories completing her attire at the party. Raveena showed up at the party with her family, and her daughter Rasha was also seen, the mother-son duo posed for the paparazzi together.
Raveen Tandon's Upcoming Films
Actress Raveena Tandon will soon be seen in the romantic comedy film "Ghudchadi" with Sanjay Dutt, Parth Samthaan, and Khushali Kumar. Apart from this, she will also be seen in 'Patna Shuklat', 'Welcome to the Jungle' and her most-awaited movie 'Housefull 5' starring Akshay Kumar, and Ritesh Deshmukh among others.