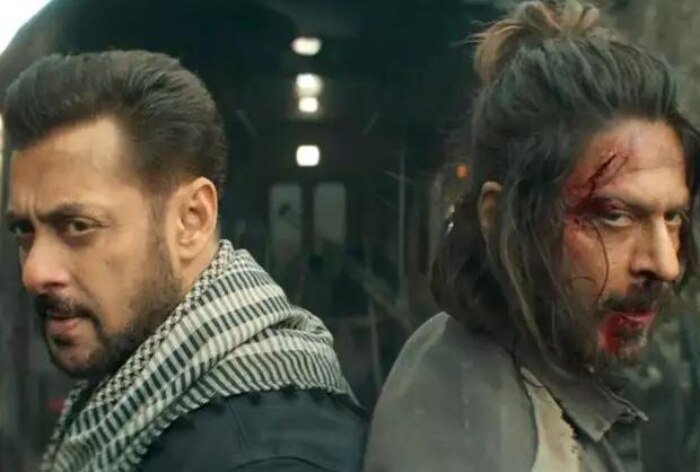 Salman Khan and Shah Rukh Khan recently met at a Diwali celebration amid the release of Tiger 3, and the video has already gone viral on social media. Here's what the two stars are talking about.
Tiger 3 vs Pathaan: Salman Khan's most awaited film of 2023, Tiger 3, has finally arrived at theaters during the festival of Diwali, and his film is roaring like a Tiger. The movie has already crossed the 100-crore mark in just two days. The film, which also stars Katrina Kaif and Emraan Hashmi, has been in the works for quite some time. Tiger 3, directed by Maneesh Sharma, has also featured cameos by 'Pathaan' aka Shah Rukh Khan and 'Kabir' as Hrithik Roshan. On the day of the film's release, SRK and Salman reconnected at a Diwali bash, and a video of their reunion went viral on the internet.
On the occasion of Diwali, Salman's sister, Arpita Khan Sharma, and her husband, Aayush Sharma organised a party that was attended by the industry's big names. The stars at the event included Sonakshi Sinha, Karisma Kapoor, Salman Khan, Shilpa Shetty, Shah Rukh Khan, Gauri Khan and other celebs. An inside video from the bash has been making the rounds on the internet since morning, fans were thrilled to see two celebrities seen together at the event.
Pathaan and Tiger have a serious debate at Diwali party -Watch video
SALMAN and SRK yesterday at Arpita's Diwali party.
byu/Majestic_District_51 inBollyBlindsNGossip
The video is from Arpita Khan Sharma and Aayush Sharma's Diwali bash, and it shows Salman Khan and Shah Rukh Khan having an intense discussion about Tiger 3. SRK wore a blue chikankari Pathaani kurta, while Salman dressed formally in a black shirt and trousers. The viral video has taken the internet by storm, and netizens are curious to know what is causing the uproar. While not much can be heard, Tiger and Pathaan are overheard conversing in the company of filmmaker Anees Bazmee. One of the users in the comment section wrote, "Aneez bazmi mast maze se beech mein sunn raha hai baatein". Another user said, "So many people are gazing at them. Damn! This is becoming very awkward. You can't even talk to your friend without their eyes."
Watch this space for more updates on Tiger 3.