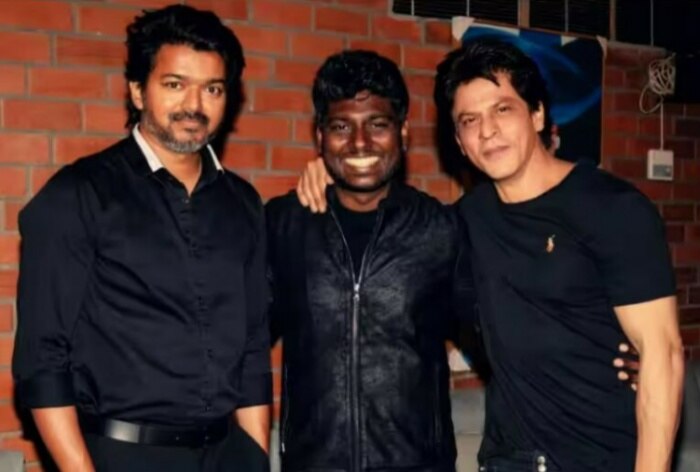 Jawan director Atlee reveals Shah Rukh Khan called him and said he should do a dual-hero film with him and Thalapathy Vijay and the director is currently working on the same. Read on.
Chennai: After the massive box-office success of Jawan, Atlee is currently on a break. However, he says once he begins with his schedule back, he will be writing a film starring his favourite superstars – Shah Rukh Khan and Thalapathy Vijay. The director has always credited his success to Vijay with whom he has delivered multiple films and with SRK, he recently delivered the most successful Bollywood film. The idea of combining these two forces seems destructive and bigger than ever. And Atlee is not afraid of going ahead with that.
During his recent interaction with a YouTuber, the director talked about his plans for the upcoming movies and the one with SRK and Vijay is definitely on the cards. He recalled an incident to explain how both the stars are eager to work together and he has to fulfil that project soon. Atlee said, "I called Vijay Anna and invited him to the party, and he said he would make it for sure. So, when he came, Shah Rukh sir and Anna discussed between themselves and called me. Shah Rukh sir told me if I ever have plans of directing a dual hero film, they both are ready for it. Vijay Anna also said, 'Ama pa'. So, I am working on it. It could be my next film. I am working very hard to come up with a script for it. Let's see."
Vijay, who is currently basking in the success of Leo, Landed on the sets of Jawan when the team was shooting for the song 'Zinda Banda' and the two stars ended up chatting for some time. Atlee has been expressing his gratitude to both Vijay and SRK for trusting in his filmmaking skills and teaming up with him for their respective blockbusters.
Meanwhile, the director is also busy with a film that a Hollywood studio has approached him for. Earlier, during an event, Atlee talked about making a hugely-budgeted film with Vijay and SRK. 'Massive' is the word for this film, whenever it happens. Are you excited already?