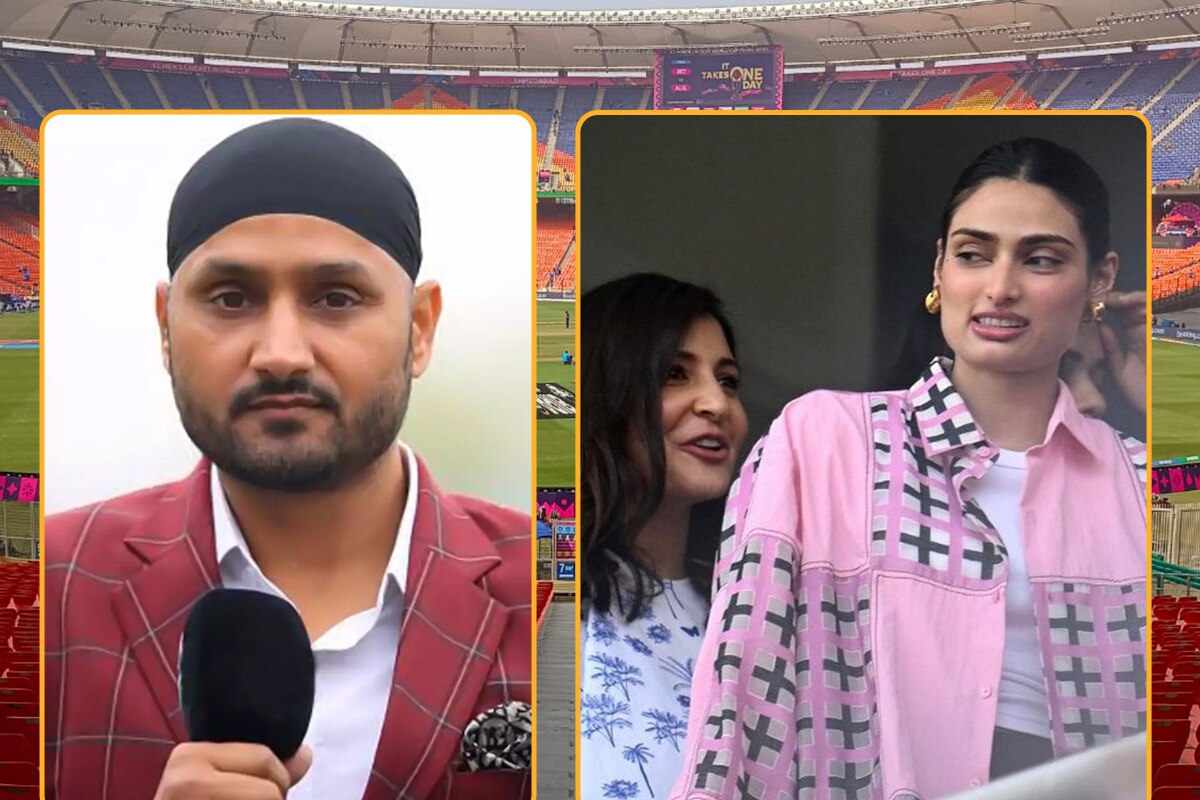 Harbhajan Singh's one comment has got him in trouble. His sexist remark on Anushka Sharma and Athiya Shetty during the India vs Australia world cup final speaks about why women find it difficult in the sports realm.
Women taking an interest in sports often catch eyeballs. 'Wow, you like cricket?!' This is something that often takes people by surprise. Sports is just another domain that is regarded to be an area of male dominance. While things are changing and rising for the better, the ideology that is deeply entrenched in the mindsets of the several people in the sports realm is what makes it difficult for women. Recently, a comment by India's former ace bowler Harbhajan Singh on Anushka Sharm and Athiya Shetty has irked people all over the internet.
Netizens are slamming Bhaji left, right and centre for what he said during the India vs Australia World Cup final match that was held yesterday in Ahmedabad.
Harbhajan Singh's Sexist Remark on Anushka Sharma and Athiya Shetty – WATCH VIDEO
As one of the Hindi commentators, was heard saying, "And I was thinking whether the conversation is happening about cricket or films. Because I am not sure how much understanding they have about cricket (Aur yeh main soch raha tha ki baat cricket ki ho rahi hai ya filmon ki. Kyunki cricket ke barein mein toh janta nahi kitni samajh hogi), as the camera panned towards the two actors who were present at the stands to support their husbands Virat Kohli and KL Rahul respectively.
Harbhajan Singh shouldn't be part of commentary. He is misogynist. @harbhajan_singh
apologise immediately. @AnushkaSharma@theathiyashetty@klrahul@imVkohli pic.twitter.com/2yQOZvV7CR

— Dee ♥️ (@deeptantalizing) November 19, 2023
In the era of social media, nothing can escape the digital eye. Soon, netizens uploaded clips from the moment when Bhajji made such a comment and it immediately went viral.
Why Harbhajan's Comment is Sexist And Reason Behind Women Cricket Team's Delayed Fame?
The Indian women's cricket team is making India one over at a time. But it was not much long away when citizens hardly knew about their existence and the numerous feats they had already achieved. There was a time when even if Mithali Raj passed by, people just would not recognise her. Why is that?
For the longest time, women and sports were stereotyped to not go hand in hand and majorly because of the mindsets of the people that women cannot reallyunderstand the dynamics of sports world. Harbhajan's comment is the modern-day example of why women still find it difficult to make a name in the domain, and when someone does, it becomes a big deal.
So, why was Bhajji's comment exactly sexist? When he said, "…Kyunki cricket ke barein mein toh janta nahi kitni samajh hogi…, " what is the statement trying to tell? That just because they are women, and from the film industry they probably lack knowledge about cricket? Never was one such remark made against all the male celebrities present at the stadium. Netizens are even discussing how a male actor can simply fo on to own cricket teams but a woman supporting her partner is being questioned about her knowledge of the game.
Such casual sexism is what still perpetuates misogynist ideas and makes it difficult to do away with it. This is why the focus was always in the Indian men's cricket team and it was only in the late 2000s when our women in blue got their fame, a delayed one though.
Netizens Demand Apology From Harbhajan Singh -Check Reactions
Bhajji's sexist comment got netizens infuriated and many started demanding apology from the former Indian cricketer.
The audacity Harbhajan Singh has talking about how Anushka and Athiya might be talking about movies cuz they do not understand the game of cricket..IN NATIONAL MEDIA!

— Omahasiya Vahiyaya (@SaltyBeeee) November 19, 2023
Pointing out the irony here that his own wife hails from an acting background, netizens did not approve of his remarks.
Harbhajan Singh suggesting Anushka and Athiya lack cricket knowledge, saying 'I don't know if they're talking about cricket or films, I don't think they know much about cricket.' Just doesn't sit right, not coool

— Akriti Sharma (@akritiisharma) November 19, 2023
"Shayad filmon ki baatein hori hai ya cricket ki, pata nahi cricket ki kitni samajh hogi"

The audacity of the commentators to pass a sexist comment on such a broadcast.

Shame pic.twitter.com/3iZilWhDZc

— Richa Singh (@RichaaaaSingh) November 19, 2023
We live in 2023, but it is a long haul towards changing mindsets.