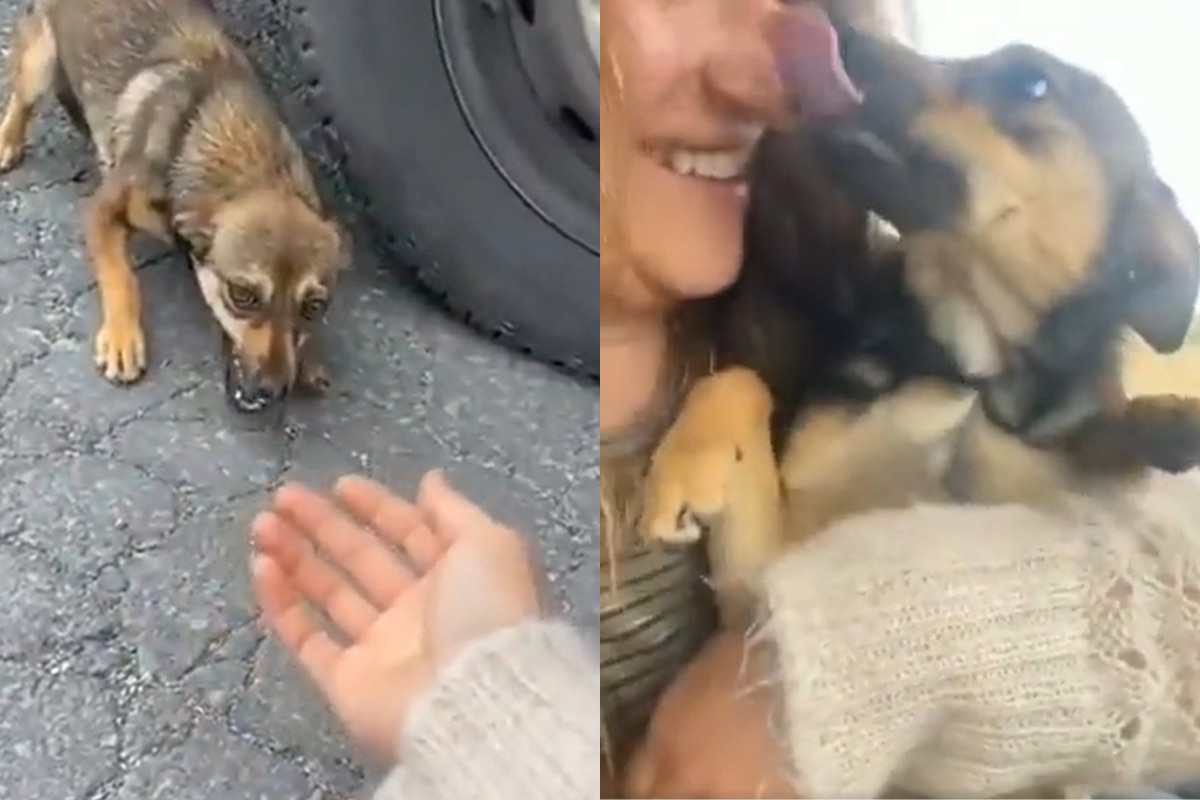 A stray puppy on the road all alone, crying for help.
Stray Puppy: This world is full of paradoxes. Either we have no time to spare for even those who are closest to us, like families and friends, or we have ample time to call on each one separately. Something similar goes for our interests. We either just walk by the most moving sights or stop over and make sure that everything from A to Z is fixed up. It is the latter that this video shows. There is a stray puppy on the road all alone, crying for help. A hand approaches it, caresses its head gently, and lifts it by the scruff just like a mother dog would do.
Then in the next frame, we see a completely different scenario. What is that?
WATCH IT RIGHT HERE
Stray dog gets adopted. pic.twitter.com/kblkJ7RsDs

— B&S (@_B___S) November 15, 2023
The video is shared on X by B&S @_B___S with the caption: Stray dog gets adopted.
That was beautiful and satisfying. Lots of respect for the woman for doing what she did.
The video has received many comments. Sharing a few with you.
Jimisola Falaja @Falajamusic: I love it when it gets adopted and it is really adorable 😍😍😍
Jimisola Falaja @Falajamusic: What a cute little dog 🐶🐶🐶
Gregory Gravett @gregorycgravett: When I was a young kid I was walking my dog and it got a away a little but I wasn't too worried. All of a sudden a woman stops her car, picks up my dog and rushes away. Luckily I found the dog at the SPCA. She didn't even give me time to scream, "hey that's my dog". This was many years ago and the dog was tiny. Of course nowadays my dogs are all on leads when they are out and about.
honey~boi @samee_horlami: This is always beautiful to watch
Ange Fatchomacco @Afatchomacco: God bless you 🙏😘
Skiller96 @Skiller961: Awee🥰 God bless you😇🙏☦
Lino @LinoDaCake: Twitter needs more of this and less of everything else.
dorothy thomas @thomas_dor80561: I'm so happy for you and the dog! Adopting a shelter pet is such a wonderful thing. Wishing you both a lifetime of joy ahead. 🐕🥰
Gloria-Gbaby @GloriaGbab72742: The dogs whine is breaking my heart. Happy for the beautiful ending to this story.
Mary @Mary572520582: ❤️💞🥰😊👏🏻👏🏻👏🏻👏🏻
AJ @AJ8Stone: Beautiful
Jo💜🚜@JoBoronte: 😥😥😭😭😊😊❤️❤️
Sonia @Sonia3044: So precious! Happy the dog got adopted..xx 💛
Wolfmanmos @Snuffawupalous: That dog is going to be so spoiled.