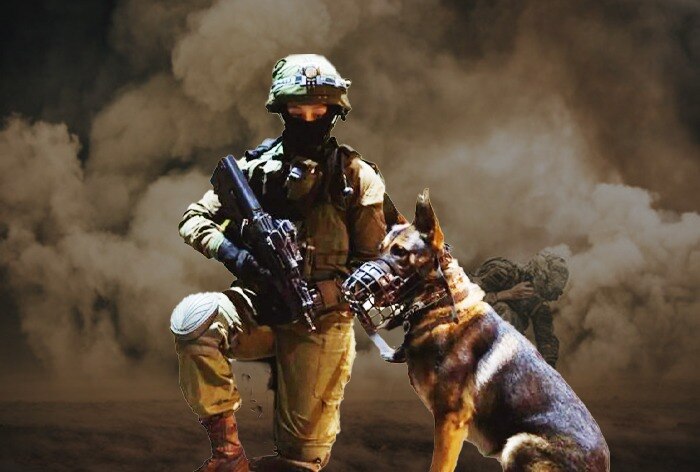 Israel Palestine Conflict: Do you know that Israel's Military Canine Unit 'Oketz' that has trained military dogs, has helped save 200 lives till now and has also helped in killing 10 Hamas Terrorists. Know all about them..
New Delhi: Israel and Palestine have been at war for close to two weeks and there has been excessive devastation and loss of life in both the factions. Army soldiers are deployed by both countries who have been fighting, rescuing their own nation's citizens and protecting them from the numerous deadly attacks. Along with the soldiers, there are some other beings on the battlefield, who have been heroically saving lives of the citizens of Israel, these are soldiers but ones with four legs and a wagging tail- we are talking about Israel's Military Canine Unit 'Oketz' whose 'superdogs' have been at the battlefield since the start of the war; they have saved lives of about 200 Israeli citizens till now and have also helped in the killing of 10 Hamas terrorists. Know all about these four-legged superheroes, who have been fighting the terrorists bravely, saving their country's citizens…
Also Read: With No Medical Care, Pregnant Women In Gaza Face Harrowing Time, Fear For Unborn Babies in War Zone – The Daily Connection
Israeli Military Canine Unit 'Oketz' Save Civilians, Kills 10 Hamas Terrorists
As mentioned earlier, Israel's Military Canine Unit 'Oketz' are playing a pivotal role in a high-stakes operation during the Israel-Palestine Conflict, saving more than 200 civilians and also helping in the killing of 10 Hamas terrorists. The heroic dogs were deployed at several locations near Gaza, that were attacked by the Hamas terrorists. Quite a few dogs have also lost their lives during the war. According to a spokesman of the Israel Defence Forces (IDF), the K-9s have helped in rescuing hostages and saving lies. The four-legged animals also helped in eliminating terrorists that had barricaded themselves in the houses of the civilians.
Meet 'Charlie', The Dog Who Located A Hamas Leader With His Skills
In a rescue mission, a dog named 'Charlie' located a Hamas leader using his skills, by attacking him before he was approached by the soldiers of IDF, to apprehend the terrorist. After these missions, the military canine unit is now preparing for an offensive role. The unit's commander, as quoted by TOI Report, said, "The next step is to enter the Gaza Strip. The mission is to neutralize all the terrorists we confront in the field; we are ready, we are strong, we are united, and we are going to win."
About 'Oketz', the Israeli Military K-9 Unit
The dogs have been described by the Israel Defence Forces as "specially trained dogs for missions in the field of counter-terrorism, search and rescue, and other specific purposes." The skilled dogs are expected to play an important role in the rescue missions that continue as the war rages on. Each dog has been trained for a specific task including attack, search and rescue, locating weapons and/or detecting explosives. Joining the organisation is a choice and there is a tough selection process and criteria that needs to be met.