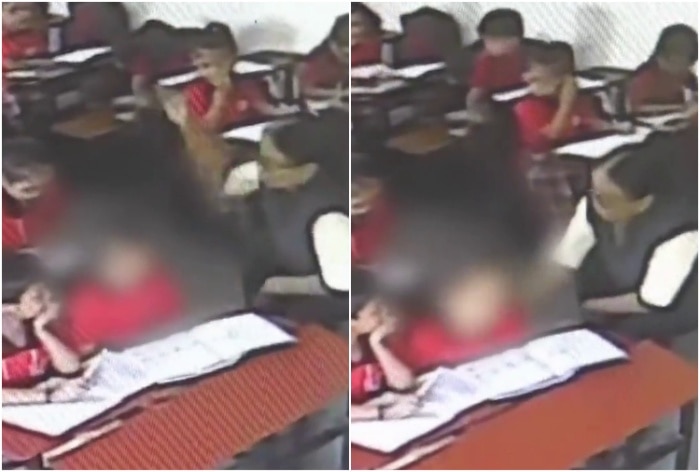 A primary school teacher in Gujarat's Surat was suspended after she allegedly slapped a kindergarten student 35 times on her face and body.
New Delhi: A school teacher in Gujarat's Surat was suspended after she was caught on film as she mercilessly slapped a kindergarten multiple times. The incident was caught on camera and the video has gone viral on social media platforms.
The incident, which occurred at Sadhna Niketan School in Surat, showed the teacher repeatedly slapping the girl student on her back and cheeks. The child, a junior kindergarten (Jr. K.G) student at the school, was viciously slapped by the teacher at least 35 times, the viral video showed.
Watch the video here
સુરતની સાધના નિકેતન સ્કૂલની શિક્ષિકાની ક્રૂરતા…વિડિયો જોઈ તમારા પર રુવાંટા ઉભા થઈ જશે#Surat #School #Teacher@prafulpbjp pic.twitter.com/3uz2pRjSmH

— Jay Acharya ( VTV NEWS ) (@AcharyaJay22_17) October 11, 2023
As per reports, the poor child developed welts and marks on her face and body due the brutal thrashing she was subjected to by her teacher. The viral clip has evoked outraged from netizens who demanded strict action against the teacher for her actions.
The teacher's actions were captured on the CCTV camera installed inside the classroom and the footage went viral on social media and the girl's parents'–upon discovering welts and marks inflicted on their daughter's face and body due to the teacher's vicious beating– approached the police and lodged a complaint against the teacher.
Meanwhile, the accused teacher, Jashoda Khokhari, has been suspended by the school even as Gujarat Education Minister Praful Pansheriya has ordered an inquiry into the matter.
Terming it as a sad incident, Pansheriya assured that strict action will be taken against the accused teacher if found guilty and such actions will not be tolerated.
"The school is considering what action to take. The District Education Officer has been ordered to personally gather information about the incident," Panseria said, adding that such incidents will not be tolerated anywhere in the state and assured strict action.
District Education Officer Deepak Darjee said he reached the school as soon as he received information about the incident and inquiry has been ordered to probe the matter.