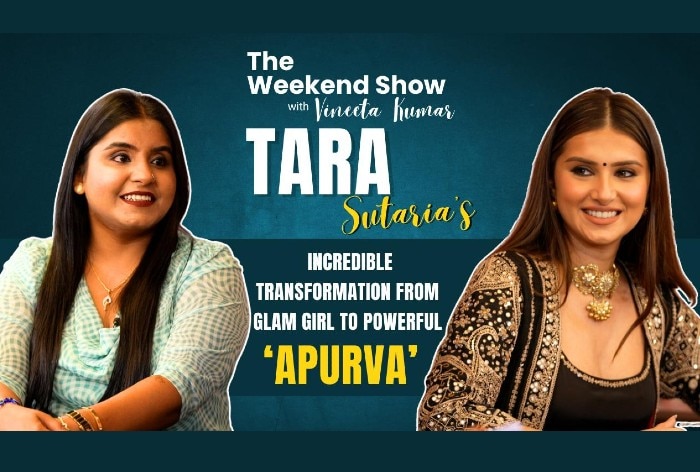 Tara Sutaria debuts on OTT with an out-and-out crime thriller – Apurva – directed by Nikhil Nagesh Bhatt. The Disney+Hotstar film is Tara's first that's riding completely on her shoulders and once you see her in this, there's no going back to the Tara of 'Student of The Year 2' or to her other glamorous parts on screen. Here's the actor totally unfiltered in The Weekend Show.
Tara Sutaria is best known for her performances in the candy floss cinema like 'Student of The Year 2', 'Tadap' and 'Heropanti 2'. The actor, for the first time, has come out of her shell to attempt something that's usually considered quite risky in such an initial stage of one's career, especially in the acting business. But, who can stop someone who says 'I am on a mission'? The glamorous Bollywood diva is debuting in the OTT space with a film on Disney+Hotstar titled 'Apurva'.
Directed by Nikhil Nagesh Bhatt, the film follows a regular girl who gets kidnapped by a gang of local goons and is sexually abused as her fiance and other family members keep searching for her, and at the same time praying for her well-being. Both Tara and Nagesh appear in 'The Weekend Show' to discuss the challenges of a film like this and to explain the beautiful transition of a commercial quintessential Bollywood 'star' into a de-glam 'actress' on-screen. This is Tara you've never seen before in and as Apurva. Excerpts from the interview:
VK: Welcome to the show, Tara. Apurva seems different and you would be thanking the universe right now for giving you this opportunity. 
TS: I am pinching myself and I am thanking everyone all the time. It feels surreal that it's finally out and people can see it.
VK: Nikhil sir, you have this penchant for casting actors in the most unlikely roles, characters that one can't imagine them playing. Not just you imagined Tara playing this de-glam role but also Rajpal Yadav playing a gangster on-screen. And then in your other film 'Kill', you have a dancer, a comedian, Raghav Juyal playing such an intense character. Where does this come from?
NNB: It comes from one, early in my life, I was a casting director. I was taught there to look at people differently. And second, the credit goes entirely to the actors because they are the ones who bring out these characters themselves. So, Tara or Rajpal sir or Raghav in 'Kill' – they have brought this out.
VK: Apurva is the story of survival. You are a fighter in this and I believe you can't play such a character if you are not internalising it. How did you internalise this character?
TS: There are many different aspects of my life that I tapped into, and I really believed this for many years, that I have this well-off emotional content inside myself that I was finally able to tap into for a film-like 'Apurva' which allows me to get into that space. A lot of people don't know that about me or haven't seen me doing that in the films that I have done. But, there has always been this certain… growing up I was very shy and reserved but recently, I have become tougher. Maybe because of the profession I am in – it makes you very tough, aware, mindful and to a certain extent, deep which are the qualities required [to play] Apurva. So, I got to tap into that and that's unexpected of me. It's interesting to me because I've always known that it's been there [in me]. I am very thankful to Nikhil sir and Murad sir for seeing that I had the capability of doing something like this. I find the opportunity to play a role like this more fun, challenging and easier than the roles the audience or the media perceive to be easier.
VK: What is the creative decision-making like when you write this role (Nikhil), and when you are offered a role like this (to Tara) so early in your career – a role which is breaking stereotypes for both of you?
NNB: It's an opportunity. It's about the producers – Disney and Murad sir had faith in me and the actors to pull off something like this. I wrote the script of Apurva back in 2009 and it has taken me 14 years to make a film.
VK: Didn't anyone back you then?
NNB: In those days, they were not making women-centric films for many reasons – satellite issues were there, there were not enough platforms for such kind of content – it was very difficult. People are looking for good content today. Someone can find strength in this story – it's the biggest thing.
TS: I am on a mission now. I want to now eradicate this term: 'female-centric films' because where do we say 'male-centric films?' We don't need to think of these as 'niche films'. Once in a blue moon, 'chalo let's throw a female-centric film in a year' – it's high time that we really give correct equality to stories about women and it should be normalised now.

VK: Tara, this is the first film where you have gone all big. This is the first time when you are there on the poster in a larger-than-life manner. When you look back to your days – right from when you began as a child star – to today when you look at this giant poster of yourself – what goes in your mind?
TS: It is different and it feels unusual. Before I did Hindi films, I was doing a lot of theatre and concerts. Today, things feel like how it felt then. There was equal attention, there was a lot of focus on what the actors were doing. Doing a solo-led film is the most special thing. It happens very rarely in our industry, for whatever reasons, but the aim is to change that by doing films like 'Apurva' and by having writers, directors and people like Nikhil sir, Murad sir and Disney+Hotstar to bring that change.
VK: I hope you're not going back from here.
TS: Why would I? (laughs)
VK: You wrote this 14 years back and now you see this story alive on-screen. What is the most challenging thing you find as a creator during this entire process?
NNB: The most challenging thing is also the best thing about the film. It talks about the thought process which needs to change. A section of the society believes women are weak – 'Apurva' changes that. It communicates that if you push a woman to a corner, she will bounce back and she is going to bounce back in the very face of the crisis.
VK: And on her own…
NNB: Yes, and you better be prepared for that.
VK: Tara, I believe that 'Apurva' aims to make women go back to the time when they bounced back in their lives or when they fought injustice. Has it ever happened to you when you probably decided to bounce back or said 'no' to something or someone you didn't agree with?
TS: A lot of unfair things are thrown our way in the industry. And in general as well. It's up to us how we choose to respond to that. I've been raised in a household full of strong women and I don't mean this in a preachy way but genuinely… I have a twin sister, my nani, my late dadi, and my mother – they are all very strong and opinionated women. They aren't afraid to speak their mind. In the industry, there are egos, and norms that people tend to follow and there's a lot of fear attached to things everywhere. That's the conditioning of society – to have that fear installed in women. I believe that a woman's mind is the greatest tool that she can be equipped with to fight all this. That's what Apurva uses here. I have had that. So, from a young age, if both boys and girls are taught to think strongly… sab soch me hain.
You know all of us, as women, have faced very strange trials and things in life but it really depends on your response to these situations to determine where you are going.
VK: Can we say Tara Sutaria is fearless today?
TS: Today, yes. A few years ago, not so much!
VK: Will 'Apurva' help women extract that fearlessness in them?
NNB: I hope so. I hope we can put forward that thought because I believe that there's nothing else like provoking a thought. If the thought comes to your head, you can do anything.
VK: Thank You!