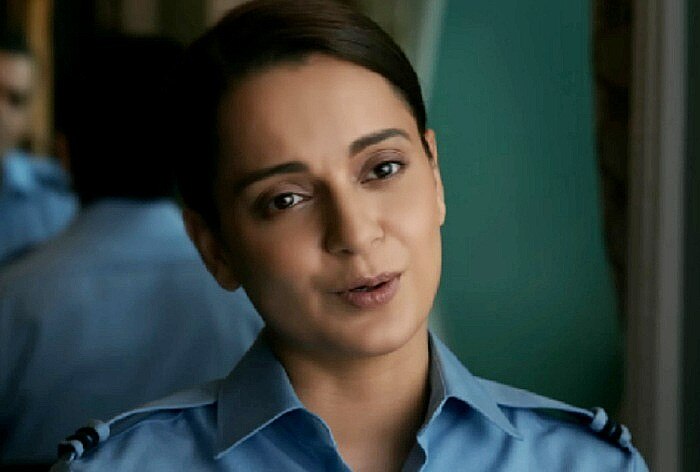 Tejas Box Office Collection Day 2: Kangana Ranaut's patriotic action-thriller witnessed minor growth amid its poor earnings in theatres. – Check Report
Tejas Box Office Collection Day 2: Kangana Ranaut's aerial action-thriller Tejas once again proved her acting prowess. Despite mixed reviews from movie critics, her performance and dedication towards the craft was hailed by movie buffs. Audiences heaped praise on her artistry and ability to get into the skin of the character as IAF (Indian Air Force) officer Tejas Gill. However, in-spite of all the accolades and laurels the movie failed to attract audiences to the theatres. Kangana and her fans had high expectations from the film as it was based on the patriotic theme. However, the dry spell in the Tejas actress' career has not yet ended.
TEJAS SEES MINOR GROWTH ON SATURDAY
Tejas earned Rs 1.25 Crore on Friday, as reported by the entertainment portal Sacnilk. The movie witnessed a minor jump on Saturday as it collected Rs 1.31 Crore, according to the estimates by Sacnilk. The film is expected to garner Rs 1.50 Crore on Sunday. Kangana had recently requested movie goers to come to theatres as it is crucial for the movie business as well as exhibitors and distributors. In a viral video, she said, "Even before Covid, theatrical footfalls were dipping drastically post covid it has become seriously rapid. Many theatres are shutting down and even after free tickets and many reasonable offers drastic footfall decline is continuing. Requesting people to watch films in theatres and enjoy with family and friends or else they (theatres) won't be able to survive. Thanks (sic)."
CHECK THE DAY-WISE BOX OFFICE COLLECTION OF TEJAS – INDIA NET (SACNILK):
Day 1: Rs 1.25 Crore
Day 2: Rs 1.31 Crore
Day 3: Rs 1.50 Crore
Total: Rs 2.50 Crore
India.com, in its review for Tejas wrote, "Tejas is meant for those looking for one of Kangana's best performances saluting the pride of Indian Air Force. The film is about the valour of our women fighter pilots and the true meaning of patriotism. However, those going with Top Gun: Maverick expectations may not connect with the film. The movie is a perfect one-time watch for the family audiences with inspiring monologues and patriotic narrative." Filmmaker Sarvesh Mewara also spoke about comparisons with Top Gun: Maverick recently in an interaction with DNA and said, "Our audiences are very generous. To give you an example, even if we talk about the trailer, I have received only appreciation. Obviously, 10-15% have said that this is not Top Gun 2. But the other 80-90% have appreciated it. That is because the audience also knows the difference in scale. I see comments like 'that is made in Rs 1000 crore and this is Rs 40 crore'. People know not to compare."
Good news! India.com is now on WhatsApp Channels. Subscribe today by clicking the link and stay updated with the latest news on entertainment and lifestyle. Click here!