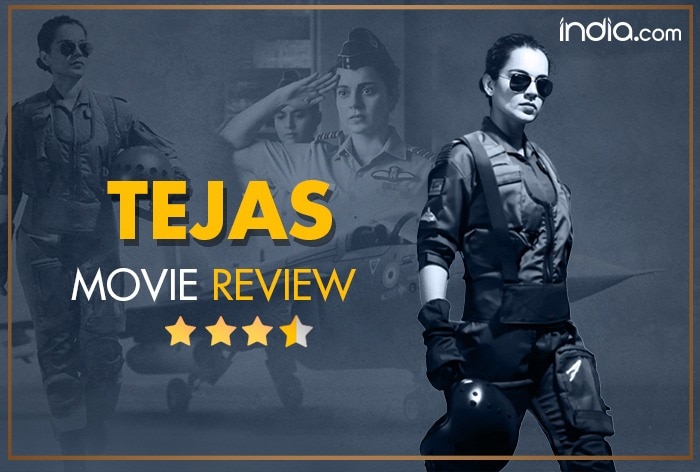 Tejas Review: Kangana Ranaut runs the film on her shoulders in Sarvesh Mewara's patriotic aerial-action-thriller.
"I want a unit of brave Indian women to form a 'Death-defying Regiment' who will wield the sword, which the brave Rani of Jhansi wielded in India's First War of Independence in 1857. What is more there is no suffering which Indian women have not gladly and bravely shared along with our men in the course of several decades of our national struggle." – Netaji Subhash Chandra Bose on Rani of Jhansi Regiment
TEJAS: A PATRIOTIC FILM ABOUT NEW INDIA!
Tejas Review: Tejas celebrates the idea of new India where women are at par with their male counterparts in accomplishing any herculean task. The vision of Netaji Subhash Chandra Bose of giving equal opportunities and duties to women in armed forces has been well executed in Sarvesh Mewara's directorial debut. The patriotic action-thriller hits the bull's eye in creating goosebumps with its heightened nationalism and high-on-emotions narrative. Kangana Ranaut, known for her versatility once again gets into the skin of her character as IAF (Indian Air Force) officer Tejas Gill. From her acting prowess, dialogue delivery, body language to action sequences, the actress gives it her best shot with her artistry. But is the movie worth your time? Read on to know if Kangana's aerial actioner is an engaging watch.
WHAT IS IT ALL ABOUT?
Tejas Gill (Kangana) is a valiant fighter pilot who is willing to risk her life when it comes to accomplishing impossible missions. She has a reputation of defying orders despite of being the best pilot in the Academy. When it comes to defending the nation, Tejas can't stop thinking about neutralizing terrorists. However, demons of her dark past still haunt her, which left a deep emotional vacuum in her life. When her former batchmate gets abducted and tortured by radical terrorists, she sets on a deadly mission along with her friend Arfa aka Anshul Chauhan.
KANGANA RANAUT STEALS THE SHOW AS TEJAS GILL
Kangana shines through the film as Tejas named after the fighter aircraft of Indian Air Force and Indian Navy meant for combat missions. She is convincing as a fighter pilot in every single frame, from her swag entry to delivering memorable patriotic lines without getting preachy in the climax sequence. Be it her emotionally drenching roles like Gangster, Who Lamhe, Fashion or light-hearted Tanu Weds Manu series and Queen, expectations are sky-high from an artist of her caliber. She doesn't disappoint during the intense sequences and leaves the audiences spellbound with her artistic finesse. Anshul Chauhan as Arfa and Vishak Nair as Prashant are decent in their supporting roles. Ashish Vidyarthi as always is impactful within limited screen presence. Varun Mitra in is impressive in a plot which revolves mostly around the lead actress.
TEJAS STRIKES A FINE BALANCE BETWEEN HUMANITY AND WAR AGAINST TERRORISM
Sarvesh, in his Bollywood debut has been fortunate to direct one of the best Indian actresses as the main protagonist. The filmmaker has given one of the best roles to Kangana in a story about women fighter pilots. The conceptualisation, emotional sequences and patriotic dialogues do create the spine-chilling moments. The debutant filmmaker has left no stones unturned in maintaining the ethos and decorum of Indian armed forces. Amid the ongoing global unrest, the film conveys the message that terrorism is personal to every human being as it is a crime against humanity. Instead of demonising religion, the movie showcases how radicals motivated by geopolitics and polarization aim at creating riots through terrorist attacks at places of worship. Tejas also captures the resilient ability of women to endure personal loss and focus on the present and future. However, in-spite of having its heart in the right place, Tejas lacks in terms of screenplay. The back-and-forth non-linear storytelling at times hampers the pace of the film. Somewhere it appears as if there is lack of clarity in the vision of the makers. Apart from the whole film resting upon Kangana's shoulders, there has been lackluster in terms of VFX and overall production value. A lot was expected in terms of mounting the budget and creating a memorable cinematic experience from a production house that gave us URI: The Surgical Strike, Mission Majnu and is also backing Vicky Kaushal's upcoming Sam Bahadur. At a time when the audiences are exposed to world cinema because of OTT, filmmakers can't afford to have any loopholes with restricted budget in any technical arena. Apart from Raanjhana and Shiva, other songs from the album are least impressive. Especially, when patriotic films in India largely depend on the music to create the right kind of engagement quotient.
Tejas is meant for those looking for one of Kangana's best performances saluting the pride of Indian Air Force. The film is about the valour of our women fighter pilots and the true meaning of patriotism. However, those going with Top Gun: Maverick expectations may not connect with the film. The film is a perfect one-time watch for the family audience with its heart in the right place.
Good news! India.com is now on WhatsApp Channels. Subscribe today by clicking the link and stay updated with the latest news on entertainment and lifestyle. Click here!