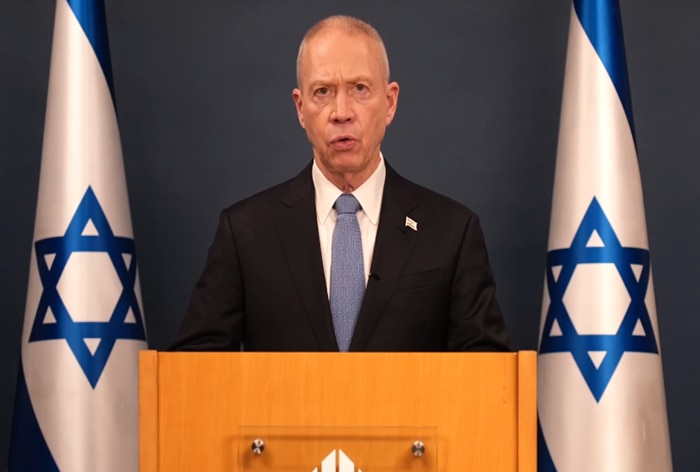 Israel Defence Minister Yoav Gallant said the country's military would find and eliminate Hamas Gaza chief Yahya Sinwar. He said if people of Gaza manage to find him earlier than the IDF, they should kill him.
Gaza: Amid Israel's intensifying ground attacks against Hamas militants in the Gaza Strip, Defense Minister Yoav Gallant called on the residents of the Palestinian enclave to help in finding the terror group's Gaza chief, Yahya Sinwar. He urged them to locate and eliminate Sinwar, stating that doing so would "shorten the war." He said, "We will reach (Hamas Gaza chief) Yahya Sinwar and eliminate him. If the residents of Gaza get there before us, it will expedite the end of the conflict." Gallant added, "Hamas has no limits."
The Israel Defence Minister's remarks came after stopping Hamas terrorists from escaping to tunnels and forcing them to attack troops, The Times of Israel reported. He said the IDF is taking Hamas "batallion after batallion", stressing that they are striking terror targets in Gaza from the northern and southern parts.
Gallant said there would be no Hamas in Gaza and no more security threats to Israel when the war ends. "There will be no more Hamas in Gaza and Israel will have absolute freedom to take whatever security action it seeks against anyone who raises their head in Gaza (to threaten it)," he stressed.
Israel-Hamas War
Started on October 7, the war between Israel and Hamas militants is about to complete a month. The United Nations and other major countries are yet to arrive at a consensus on how to deal with the conflict. Notably, the war started when Hamas militants launched a multi-pronged attack on Israel by air, land and sea, killing over 1,400 Israeli people and taking 240 civilians as hostages.
Israel's Brutal Counteroffensive
Israel has responded with a brutal counteroffensive, conducting air strikes on the Gaza Strip, implementing a blockade, and expanding its ground operations in the densely populated Palestinian enclave. These deadly strikes have resulted in the loss of nearly 9,500 lives.
On Friday, United States Secretary of State Antony Blinken arrived in Israel for the second time since the conflict began and met with Israeli Prime Minister Benjamin Netanyahu. While Blinken expressed the United States' support for Israel in its offensive against Hamas, his call for a ceasefire was rejected by Netanyahu.
Previously, the Israeli leader stated that a ceasefire in Gaza would be seen as surrendering to Hamas.