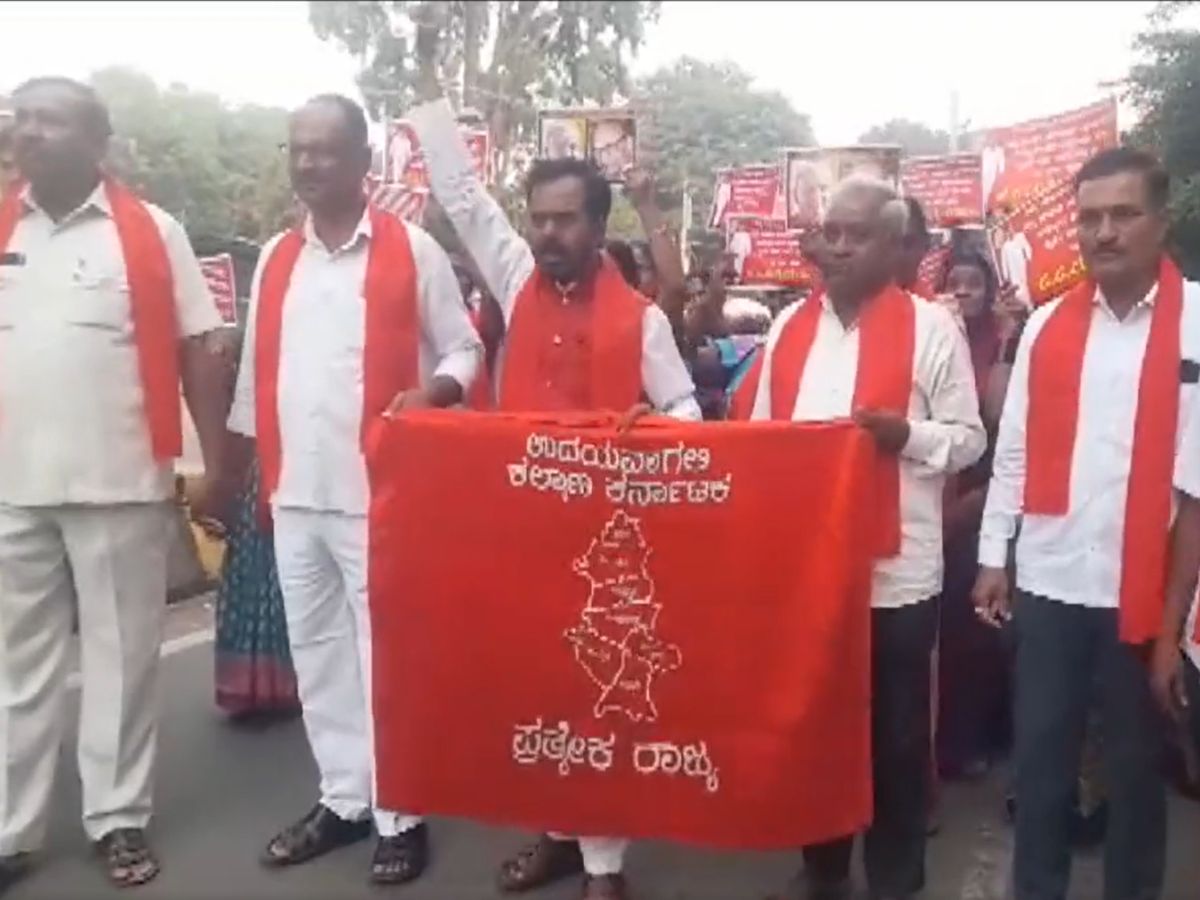 Protests are being held in Kalaburagi, Karnataka by a specific group who is demanding a separate state for the Kalyana Karnataka region. Know more about it..
New Delhi: Karnataka is celebrating the Karnataka Rajyotsava day today which is a celebration of the merger of Kannada-speaking regions seeing the birth of Karnataka State on November 1, 1956. While most residents of the state are rejoicing on this occasion, there is a particular group who has been protesting on this day. The protests are being staged for a big demand from them, which is for a separate state for the Kalyana Karnataka region. These protests are happening in Kalaburagi, Karnataka and are being done by the Kalyana Karnataka Pratyeka Rajya Jagruti Samiti. Read more to know what is the protest about, who are the Kalyana Karnataka Pratyeka Jagruti Samiti, more about the Kalyana Karnataka region and also the Karnataka Rajyotsava..
This Group Demands Separate State From Karnataka
As mentioned earlier, the Kalyana Karnataka Pratyeka Jagruti Samiti has been staging protests in Kalaburagi, Karnataka and demanding a separate state of Kalyan Karnataka region. An attempt has also been made to hoist a separate flag for this 'new state' at the Sardar Vallabhai Patel Circle today, on Karnataka Rajyotsava.
Karnataka Police Takes Activists In Custody
Due to the protests, the police have taken more than 20 activists in custody; these activists were protesting for a different state, under the leadership of the Committee President MS Patil. As a precautionary measure to prevent any unpleasant incident due to protests, tight police security has also been deployed in the city.
What Is Kalyana Karnataka Region?
The Kalyana-Karnataka region in Karnataka state, which was earlier known as Hyderabad-Karnataka, includes Bidar, Yadgir, Raichur, Koppal and Kalaburagi of Hyderabad state and the Ballari nd Vijayanagara of Madras province. The region has 40 assembly constituencies and it consists of a high percentage of SC/ST population and minorities.
Karnataka Rajyotsava
Speaking of Karnataka Rajyotsava, Karnataka was founded today, i.e. on November 1 in 1956, after the passing of the State Reorganisation Act; Karnataka was formed when all Kannada-speaking regions of India were merged to form a single state. However, the state had to be renamed Karnataka on November 1, 1973; it was originally known as Mysore State.
Karnataka CM Siddaramaiah has extended his greetings on social media platform 'X', "Best wishes for Kannada Rajyotsava to our dear Nadabandhas. This day is a special day for Kannadigas. This is the holy day when the Kannadigas, who were scattered in different provinces, united through the gut called Kannada. Let us all remember with respect the hard work, sacrifices and sacrifices of millions of Kannada fans who worked selflessly to make such a Kannada dream come true. On November 1, 1973, our state was renamed as Karnataka and today it has been 50 years. On the occasion of Karnataka's Golden Jubilee, I wish that Kannada becomes not only the vernacular but also the language of every home in the country, and that this day be a daily celebration for the Kannadigas."