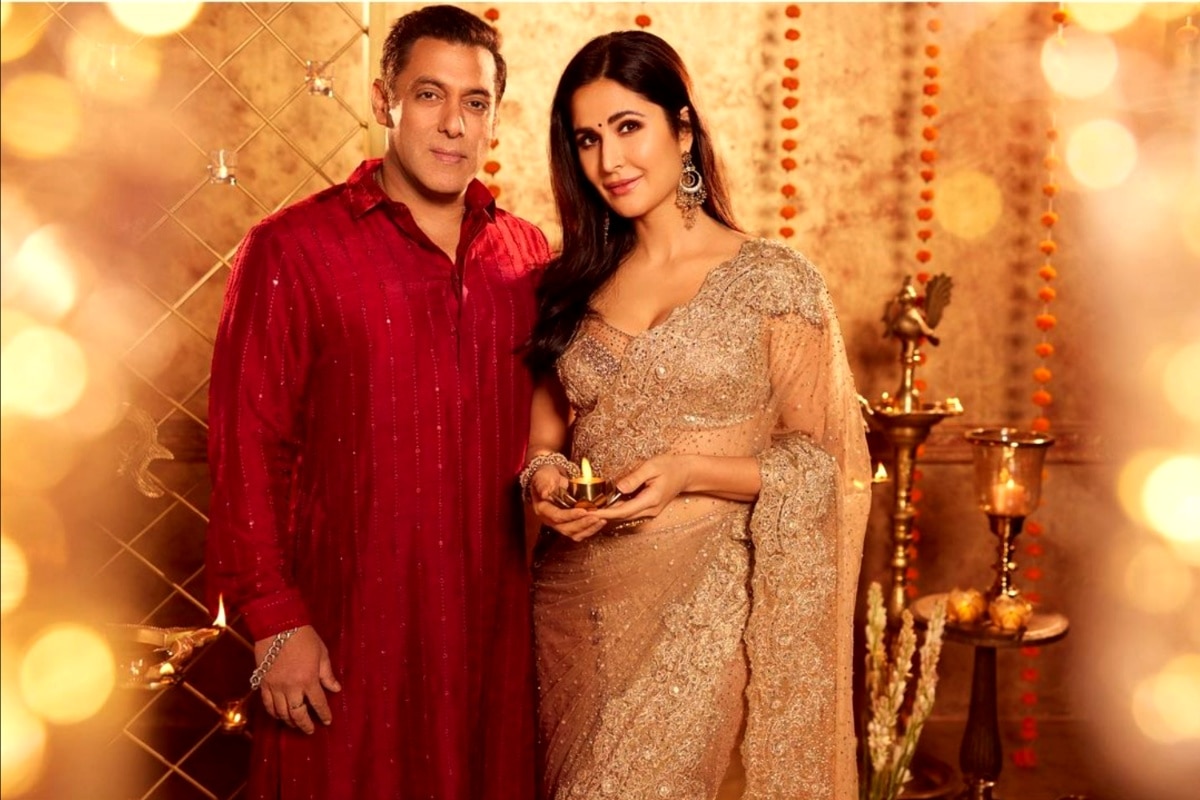 Salman Khan and Katrina Kaif looked gorgeous all dressed up for Diwali ahead of Tiger 3. See pic here!
One of the most successful on-screen jodis of the Indian cinema, Salman Khan and Katrina Kaif, who have never had a Diwali release together are super excited to celebrate this festival with 'Tiger 3'. Taking to Instagram, Salman shared a picture featuring the pair to wish fans Diwali in advance. In the picture, Salman and Katrina can be seen dressed in their traditional best. Salman dressed in a red kurta pajama, while Katrina opted for a sheer golden stone-work saree for the occasion. She can also be seen holding a diya in her hands.
Sharing the picture, Salman wrote, "Happy Diwali #Tiger3 releasing on this Sunday, 12th November in Hindi, Tamil & Telugu." As soon as the picture was uploaded, fans and industry friends chimed in the comment section. One of the users wrote, "Katrina Kaif and Salman Khan real-life couple hote kaash (Wish Salman and Katrina were real-life couple). Another fan said, "Aap dono ki shaadi hoti toh aise dikhte."
Salman had said, "It is always special to have a release in Diwali because I have very fond memories of how the festival has always blessed me with good luck. It is quite amazing that Katrina and I, as a pair, haven't had any Diwali release and Tiger 3 will be our first Diwali film! As co-stars, we have done films that have been loved by many people. So, if we can give them the best Diwali with Tiger 3, we would be very humbled."
Katrina shared, "This Diwali is extra special because I have a release in Tiger 3, a film which is about triumph over evil. It's also my first film with Salman to be releasing on Diwali! Salman and I are looking forward to entertaining everyone and adding even more joy and excitement to this Diwali's festivities."
She added, "This year I feel we will be celebrating Diwali with everyone all through the country with our film release and I hope we give everyone an amazing Diwali gift in Tiger 3!"
Diwali has a special place in the hearts of these two actors as it's loaded with nostalgia. Salman stated, "For me, Diwali has always been that festival that brings people together, brings families together. I'm looking forward to spending this Diwali with my folks. I will watch Tiger 3 with my entire family this Diwali and I hope everyone does too and thoroughly enjoys this big screen experience."
"Diwali has always been a festival all about celebration. For me, it is a festival of togetherness, love, light, celebrating our families and bonds of friendship and the acknowledgment that good will always triumph over the bad," Katrina added.
Directed by Maneesh Sharma, 'Tiger 3' stars Salman Khan, Katrina Kaif and Emraan Hashmi in lead roles.
Produced by Aditya Chopra and directed by Maneesh Sharma, the film is set to hit theatres on November 12 in Hindi, Tamil, and Telugu.