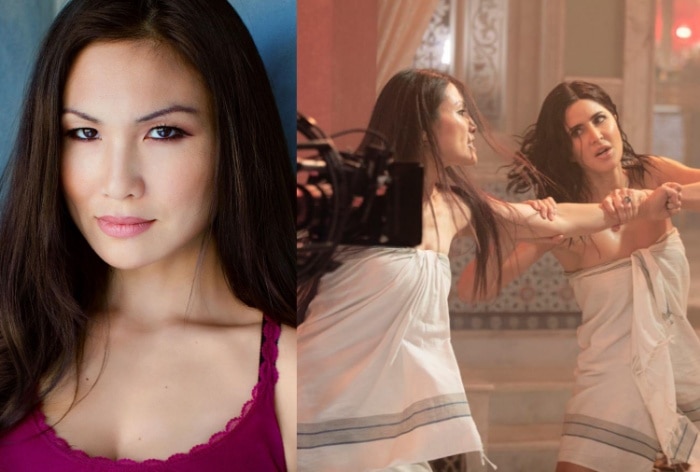 Tiger 3: Katrina Kaif's towel fight Sequence adversary Michelle Lee opened up on the challenges while shooting for the Hamam scene.
Tiger 3: Katrina Kaif is being lauded for her recent peppy track Leke Prabhu Ka Naam from Tiger 3. Her chemistry with Salman Khan is being lauded by movie buffs. However, the film is also making a lot of noise because of the few seconds glimpse of the Hamam fight sequence in Tiger 3 trailer. In the promo Katrina is seen engaging in a fierce hand-to-hand combat with Venom fame Michelle Lee. Both the stars are seen draping a matching white towel in the scene that has taken the internet by storm. Fans have been hailing it as the most-awaited scene in the upcoming spy actioner. Michelle recently opened up about her shooting experience in a recent interview.
MICHELLE LEE SHARES TIGER 3 HAMAM FIGHT SEQUENCE WITH KATRINA KAIF:
MICHELLE LEE OPENS UP ON HER WORKING EXPERIENCE WITH KATRINA KAIF
In a recent interaction with Hindustan Times, she was quizzed about her few seconds Hamam sequence catching the maximum eyeballs. She said, "I'm not surprised. I thought it was pretty epic when we were shooting it. We learned and practised the fight for a couple weeks and then shot it. The set design was absolutely gorgeous and the fight was really fun to do. It was wonderful being on an international film." While praising Katrina who plays Zoya, Michelle further added, "Katrina was as graceful and professional as can be. She worked really hard on getting the movements precise and making sure all the movements flow. It was clear she had experience in choreography so it was super easy to work with her. We worked up a sweat!"
MICHELLE LEE SPILLS-THE-BEANS ON EPIC TOWEL FIGHT SCENE
On the challenges while shooting for the action scene, the Tiger 3 actress told, "One of the main challenges was definitely the wardrobe! Our towels needed to stay in the proper place and with so much movement and fight choreography, it was definitely a challenge. We ended up having the towels sewn closed at certain points and that helped a lot." She also opined, "Another challenge was striking each other in the perfect amount of distance so that it looks close enough to be dangerous and strong but far enough to not actually hurt each other. Can you imagine if I actually got her?! But I'm a professional lol. So things went smoothly, neither of us got hit so we just had to make it work for the camera."
Michelle has been part of popular Hollywood films like Black Widow, Pirates of the Caribbean, Bullet Train and Venom.
Good news! India.com is now on WhatsApp Channels. Subscribe today by clicking the link and stay updated with the latest news on entertainment and lifestyle. Click here!