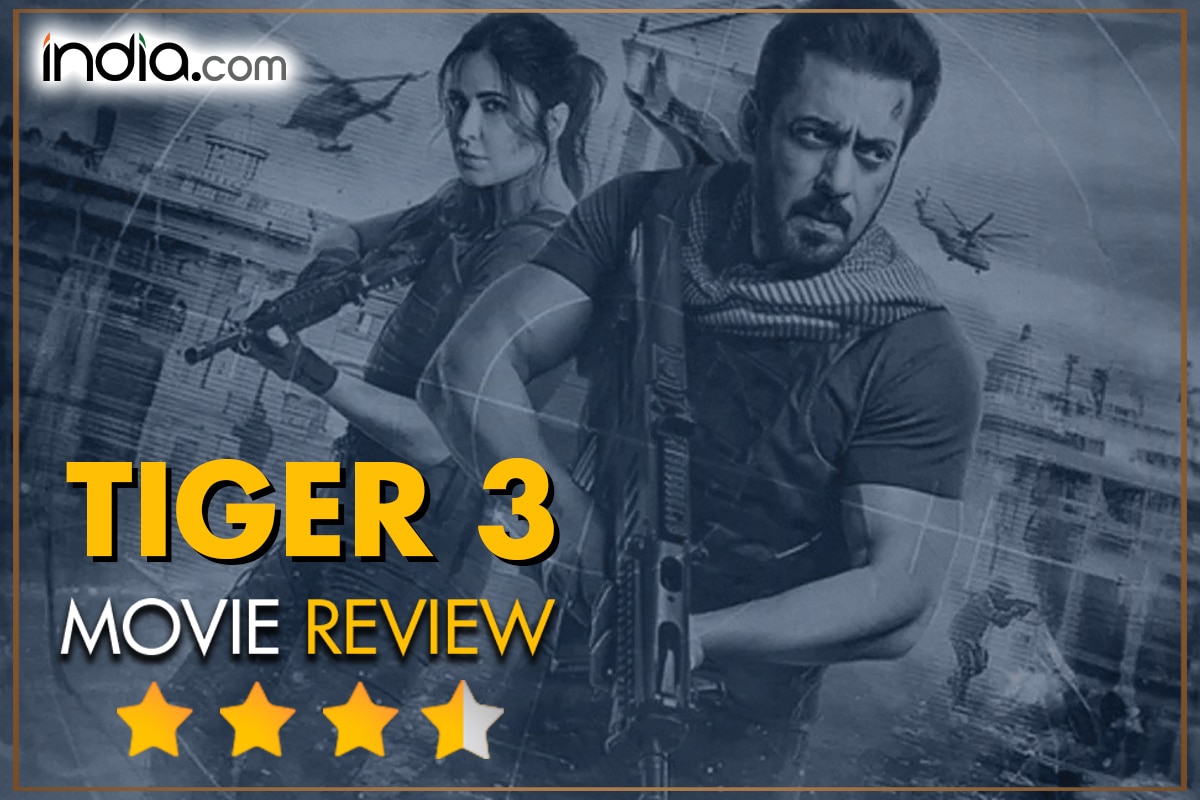 Tiger 3 is massy, dramatic and full of whistle-worthy action sequences. But, it's not Pathaan.
Tiger 3 Movie Review: Tiger is on a mission again. But, it's a personal one this time. Salman Khan and Katrina Kaif reprise their most iconic parts in the third film from the Tiger series and the fifth one from the YRF spy universe. After Kabir Khan and Ali Abbas Zafar, Maneesh Sharma helms a Tiger film and brings in all the elements of a true mass entertainer. But, is it worth the hype? Does Salman Khan look as convincing as RAW agent Tiger as he looked in the other two films? And does the pairing of Salman and Katrina hold the same magic that it did in the previous films? Here's how Tiger 3 shapes up.
First things first, Tiger 3 is a full package of a true blue action entertainer that's worth watching on the big screen. It has Salman doing fabulous action but for the first time in many years, he is not the only one carrying the film on his shoulders. Every actor plays a part in making Tiger 3 a quintessential Bollywood film. Katrina Kaif's Zoya Nazar gets a backstory and more to do in Tiger 3 than the other two films in the franchise. Zoya and Tiger have matured together, have a teenage son to protect, enemies to fight, and efforts to make peace between their countries. It's always going to be a joint mission for them now and they are good at what they do. But, while the action goes a notch ahead, their chemistry doesn't. Salman and Katrina always looked good together on screen but in Tiger 3, they don't carry forward even half the chemistry they had in the magical number 'Dil Diyan Gallan' from Tiger Zinda Hai.
Tiger and Zoya have to protect their family and do questionable things to ensure that. Enters Aatish Rehman, the villain who reminds you of Suniel Shetty's Raavan from Main Hoon Na – a man who will never let peace happen between India and Pakistan. Emraan Hashmi is stylish in his black suit and a bushy grey beard but is not as menacing as anyone should be to become Tiger's arch nemesis. After all, a strong villain makes your hero look stronger and that's probably why Tiger 3 falls flat in the scenes starring Emraan who tries hard but doesn't pull off his first out-and-out villainous role. The lack of a strong villain feels compensated with solid background music though. Tiger 3 boasts the most memorable background score in all of the spy movies so far, adding a lot to the stylish action and drama happening in the front. However, it lacks the songs that can live with you long after coming out of the theatre.
Kumud Mishra as the tech guy Rakesh ji, makes a return as part of Tiger's home-grown army. He is joined by a very dedicated Anant Vidhaat Sharma and Chandrachur Rai as Tiger's new aids. However, the biggest slice of the cake in the whole film is taken by Shah Rukh Khan who lights up the screen like Diwali lamps simply by the flick of his hair as Pathaan. He comes, conquers and leaves you with the happy feeling of binging on all the festive sweets without gaining weight. SRK as Pathaan is the most extra thing about Tiger 3 but who's complaining when you get to see two superstars doing comedy, action and bromance in the money for one?
They promised Tiger 3 to be a full festive entertainer and it is. The film has a decent first half but the real magic begins after the interval when you have so much happening including the totally awesome Pathaan's cameo. Tiger 3 takes you to the choicest locations in Turkey, Austria, Old Delhi, Mumbai and Dubai and you don't bat an eye. It's an engrossing film where things are happening rapidly and you can't miss a single scene. The story gets predictable in parts but not a major gripe when you are aware of how the Bollywood action entertainers, especially things in YRF's spy universe work. There's no logic in applying logic because this is the film to clap, hoot, eat popcorn and cheer everytime Salman gives a Diwali reference. Sample this: "Humare yahan Diwali teen din chalti hai. Aatishbaazi tumne shuru ki, khatam main karuga." Or him telling everyone "Jab tak Tiger mara nahi, tab tak Tiger haara nahi". Another whistle-worthy dialogue comes from SRK's Pathaan when he promises a new-age Jai-Veeru camaraderie and says "Tiger zinda tha, zinda rahega. Ye Pathaan ka vaada hai." And if you were still missing the patriotic essence where desh is everything for our spies in this universe, there's a Sitar rendition of our National Anthem being performed in Pakistan.
Tiger and Zoya are the heart of this universe but Pathaan is the soul. Tiger 3 looks like a happy mass entertainer, the kind of film which deserves a good family turnout in theatres, especially during the festive times. Also, don't miss the post-credit scene where Hrithik Roshan appears as Agent Kabir on a new mission to destroy the biggest of the biggest villains loading in the spy universe. This one is for fun and good vibes!
Stars: 3.5