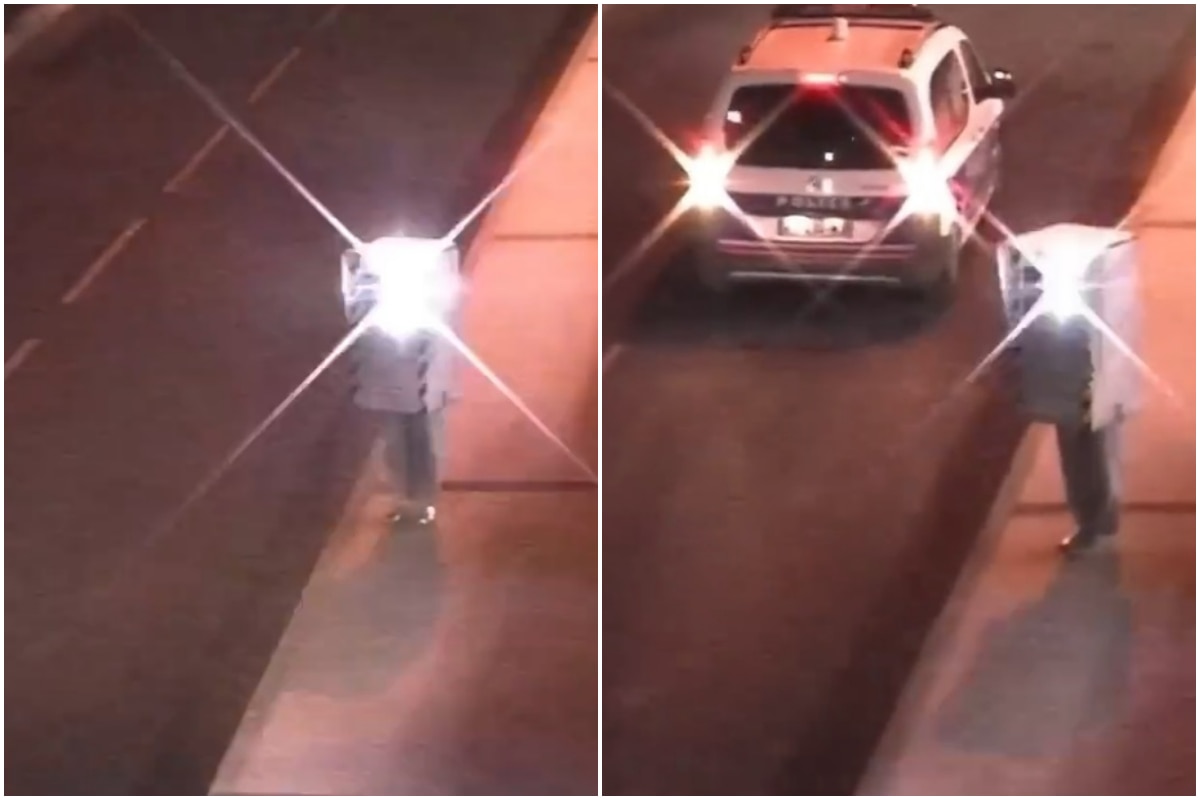 A police car passes by and the camera blinks a few flashes to note the police car for going fast.
Speed Camera And Police Car: Here in India, and many other countries around the world, law enforcement agencies have placed CCTVs and speed cameras at many places so that people desist from doing anything unlawful or indulging in bad behavior and this arrangement has proved to be very effective. However, there are some mischief-makers who try to find amusement with these devices just like this video shows us. It is night time and a speed camera is placed on the pavement on the side of the road. It is blinking lights as if clicking pictures of the speeding vehicles. A police car approaches and passes by at what seems to be a normal speed yet the camera blinks a few flashes to note the police car for going fast.
The car reverses and stops next to the camera and the door opens. But even before the cop could step out, the speed camera runs away and the cops' car follows it.
WATCH THE VIDEO HERE
Cops need to appreciate humor! 🤣🤣pic.twitter.com/7X8sRRwF9r

— Figen (@TheFigen_) November 12, 2023
The video is shared on X by Figen @TheFigen_ with the caption: Cops need to appreciate humor! 🤣🤣
One user with the handle Tree of Knowledge @ToK_ScienceTree has shared a video with the comment: Here is the full video by Rémi Gaillard. He was actually arrested, as you can see.
On further search, we found that Rémi Gaillard is a French prankster, YouTuber, and animal rights activist and his YouTube channel is the 100th most subscribed comedy channel. He has posted numerous trick-shot videos.
The video has received many comments. Sharing a few with you.
Rob @UncleRobbie: for what? when there's murderers and rapists out there.
Luis G @Luiigiii33: Legend
Johnny Overland @johnny_overland: I shoulda known it was Rémi! Signature goofiness/subversion 😂
Maali Marvin Kenneth⚡@MaaliMKen: This is art
SafelyLockedDown @whatsuppfolks: 🤣🤣🤣 Arrested for what though..?
Rebel without a cause 🇨🇦 @ERMP_rebel: Why?
Terence Galwey: @GalweyTere84009: That's too funny! 😂 😂 😂 😂 😂🤣🤣🤣😭😭😭