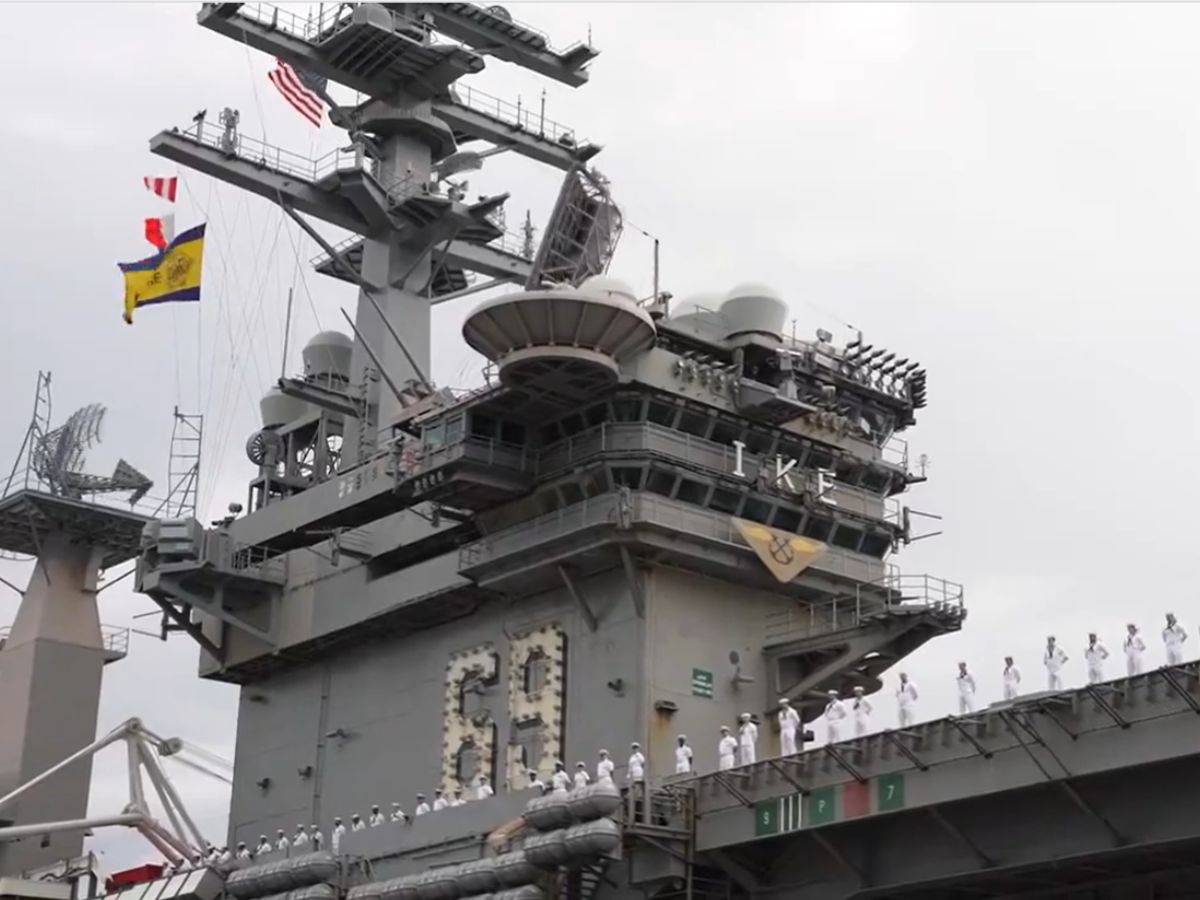 The United States has now sent its second aircraft carrier to help Israel and 'deter any hostile actions or efforts towards widening this war' following the attack of Hamas, in the Israel Palestine Conflict. Know all about it..
New Delhi: The Israel and Palestine Conflict has turned into a full-fledged war and the attacks have continued for more than a week, killing more than 2000 people collectively, on both sides. The war does not seem to end anytime soon and now, the United States have sent a second aircraft carrier strike group to the eastern Mediterranean. According to the US Secretary of Defence Lloyd Austin, this is done to deter the "hostile actions" against Israel or any efforts toward widening this war following Hamas's attack on Israel. Earlier in the week, the US Air Force announced the deployment of squadrons of F-15, F-16 and A-10 fighter aircraft to the region.
What Does The Aircraft Carrier Contain?
The Strike Group includes the guided-missile cruiser USS Philippine Sea (CG 58), guided-missile destroyers USS Gravely (DDG 107) and USS Mason (DDG 87), and Carrier Air Wing 3, with nine aircraft squadrons, and embarked headquarters staffs. The Eisenhower CSG will join the USS Gerald R. Ford Carrier Strike Group, which arrived earlier this week. The Ford CSG includes the USS Normandy, USS Thomas Hudner, USS Ramage, USS Carney, and USS Roosevelt, the statement added. "The increases to US force posture signal the United States' ironclad commitment to Israel's security and our resolve to deter any state or non-state actor seeking to escalate this war," Austin stated.
📍NORFOLK, Va. – The USS Dwight D. Eisenhower (CVN 69) departed today on a scheduled deployment to the U.S. European Command area of responsibility, where it will engage with allies and partners in support of maritime statecraft.

MORE: https://t.co/JZOg7D1YKd pic.twitter.com/WO8Ak0t91U

— U.S. Fleet Forces (@USFleetForces) October 14, 2023
US Sends Help To Israel
According to the US Navy, the strike group is scheduled to deploy to the US European Command area of responsibility where it will engage with allies and partners in support of maritime statecraft, which encompasses naval diplomacy and national efforts to build comprehensive US and allied maritime power." Each entity that comprises IKECSG has worked exceptionally hard over the last several months, and we are ready to bring maritime power in support of any tasking," said Rear Admiral Marc Miguez, commander, Carrier Strike Group (CSG) 2, IKECSG, adding, "Our presence will undoubtedly strengthen relationships with our allies and partners, as we share the goal to deter aggression, and if required, deliver overwhelming combat power."
Meanwhile, Lloyd Austin was the second high-level US official sent by President Joe Biden to visit Israel in two days amid the Israel-Hamas war. He stated that the US will continue to coordinate with Israel to help secure the release of hostages from the clutches of Hamas, including American citizens. Earlier on Thursday, US Secretary of State Antony Blinken visited Israel and met PM Netanyahu and President Isaac Herzog.
Blinken emphasized the importance of preventing any further fronts in the ongoing conflict and warned against any attempts by state or non-state actors to exploit the situation.US President Joe Biden was one of the first global leaders to condemn the horrific terror attack by Hamas on Israel on October 7, which has so far killed at least 1300 people and left more than 3000 injured.
(Inputs from ANI)