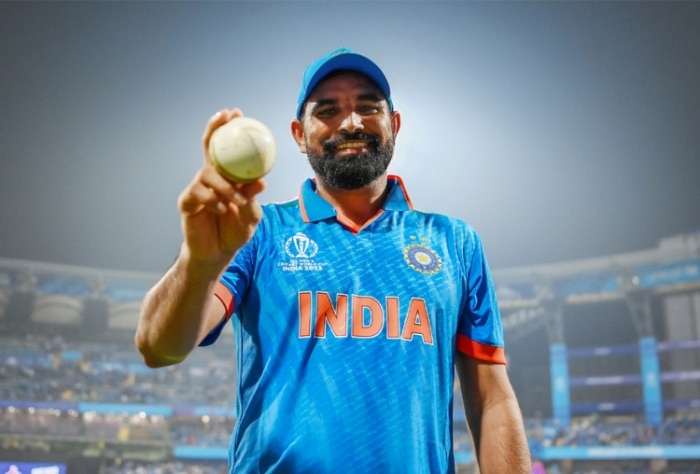 In just six outings, Indian pacer Mohammed Shami has picked up 23 wickets and is currently the leading wicket-taker of the ODI World Cup 2023.
New Delhi: Former Indian batting coach Sanjay Bangar heaped praise on experienced pacer Mohammed Shami for overcoming rough patches in his career. Bangar also stated that the pacer has gone through ups and downs in his career and as well as in his personal life, but still, Shami has kept his head high. The former Indian cricketer also said that he was very proud of him.
Right-arm quick pacer Mohammed Shami has been one of the best bowlers in the ongoing prestigious tournament and for Team India. In just six outings, the pacer has picked up 23 wickets and is currently the leading wicket-taker, while Australian leg-spinner Adam Zampa is in second spot.
The Indian pacer was not part of the original choice playing XI of the Rohit Sharma-led side, as India opted to choose Jasprit Bumrah, Mohammed Siraj, and two fast bowling all-rounders, Hardik Pandya and Shardul Thakur, as their first-choice pace bowlers.
However, Hardik Pandya's injury during the match against Bangladesh in Pune forced India to change its combination, and they brought the right-arm pacer, Shami, back into the playing XI.  His inclusion helped the Men in Blue, as Shami has taken two wickets in the league stage matches.
His best performance came at a very crucial time. In the first semifinal match against New Zealand, Shami picked up seven wickets, registering the best-ever figures by an Indian bowler in ODI history, and helped his side to a 70-run win at the Wankhede Stadium in Mumbai on Wednesday.
"Very proud of Mohammed Shami. He has gone through some rough patches, not only in his career but fitness-wise as well, as well as in his personal life, so it is great to see somebody of that sort of a character having gone through those ups and downs and still keeping his head high," Sanjay Bangar said on Star Sports ahead of the World Cup 2023 Final.
"In such times, what you require is passion to go back to what you love doing, keep playing cricket. He has bowled India to victory consistently," Bangar spoke on Shami's passion.
During the tournament, Shami also became the first Indian pacer to pick up 50 wickets in the ODI World Cups. "Shami not originally being a part of the original World Cup squad was a little bit surprising. If there weren't injury concerns to some bowlers, he might not have got his selection. But I guess, good sense prevailed and he became a part of the squad," the former India batting coach said.
"If you see a bowler like Pat Cummins who bowls one change, he has picked up wickets using the short delivery. On the other hand, look at Shami, he has picked up wickets, bowling fuller length with the old ball and that goes onto show the quality of the player and he has performed exceedingly well in the tournament," Sanjay Bangar concluded.