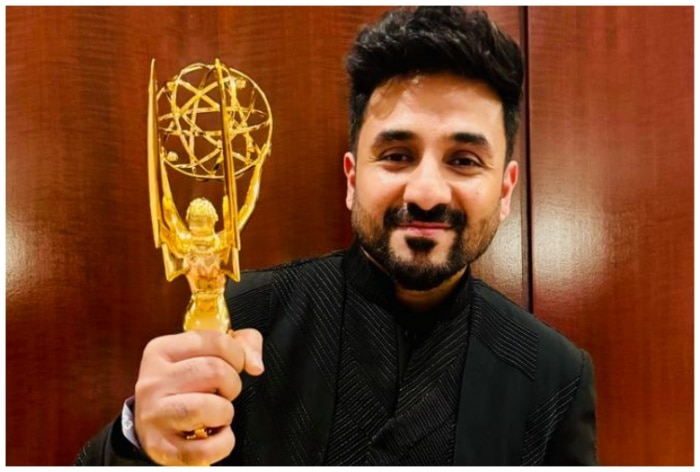 Vir Das makes India proud at International Emmy Awards 2023, grabs the best comedy show trophy for his Netflix special – Vir Das: Landing.
New York: Actor and comedian Vir Das made India proud as he won his first International Emmy Award for his Netflix show 'Vir Das: Landing'. The actor was present at the ceremony with Indian talents Shefali Shah, Jim Sarbh and Ekta Kapoor who were all nominated in prestigious categories at the awards this year. Vir, who has made a name for himself in the West for his standup comedy acts that often turn contentious in India, held the trophy and took a deep breath on the stage as he savoured the historic moment. This is the first time that an Indian actor/comedian has bagged an International Emmy Award.
Vir's Netflix show was declared the Best Comedy along with 'Derry Girls Season 3' which also won in the same category. It was a tie! As soon as the news broke, Vir's fans from all over the world congratulated him on social media. One user wrote, "@virdas super proud …many congratulations (sic)," another said, "@virdas well deserved, congratulations (sic)."
Vir, 44, recalled his journey from 'Noida to International Emmys' as he talked about winning the prestigious trophy. The actor thanked Netflix for giving him the opportunity and providing a platform to tell things his way. The comedian said, "This moment is truly surreal – an incredible honour that feels like a dream. Winning an Emmy for 'Vir Das: Landing' in the 'Comedy Category' is not just a milestone for me but for Indian comedy as a whole. It's heartening to see 'Vir Das: Landing' resonate globally, thanks to Netflix, Akash Sharma and Reg Tigerman who made it special. My journey from crafting local stories to receiving a global accolade has been both challenging and rewarding, and Netflix has been instrumental in that growth. I'm excited about the continued exploration of diverse narratives, from Noida to the International Emmys – India gets you there (sic)."
Our heartiest congratulations to Vir, his fans and the team of 'Vir Das: Landing'!