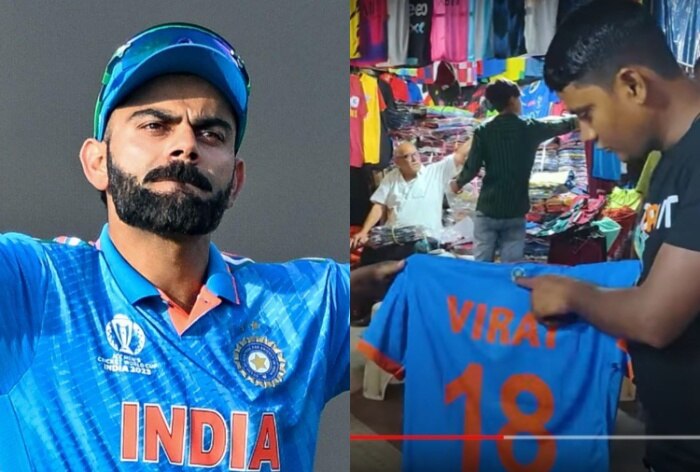 Virat Kohli will be celebrating his 35th birthday on November 5 when India take on South Africa at the Eden Gardens in Kolkata.
Kolkata: The Virat Kohli fever has taken over the Bidhan Chandra Roy market, popularly known as Maidan Market, ahead of India's much-awaited clash against South Africa at the Eden Gardens on November 5 in the City of Joy. With just five days to go before the high-octane clash, the demands for Kohli's jerseys at the Maiden Market have gone rocket-high.
While one can see several jersey vendors across the footpaths leading to Eden Gardens on match days, the real game starts much before at the Maidan Market – which has been a hub for all kinds of sports accessories for several decades.
India's brilliant run at the ongoing ODI World Cup 2023 has also been a positive factor for the jersey sellers in the market. With the Men in Blue winning all their six games so far, the demands for Indian jerseys are a bit high than the other countries.
"Since the World Cup is happening in India, the demands for Indian jerseys are a bit high. If the Indian team reach the final, this currently demand will rise three times high," shop owner was quoted as saying to a Bengali news outlet. "We have encountered people who are looking for jerseys like New Zealand, Australia and Pakistan, but they are no match to India. Demand for Virat Kohli's jerseys are most."
Another shop owner is hopeful that India will reach the final and emerge champions. "India will reach the final, become champions and our sale will also increase along with the price of jerseys. Currently, top quality jerseys are in demand with the range hovering from Rs 350 to Rs 400," he said.
Eden Gardens has five games in the ODI World Cup 2023. Bangladesh lost to the Netherlands last week in Kolkata and will take the field once again against Pakistan on October 31. Then India face South Africa on November 2 before Pakistan taking on defending champions England November 11. The iconic stadium will also host the second semifinal on November 16.