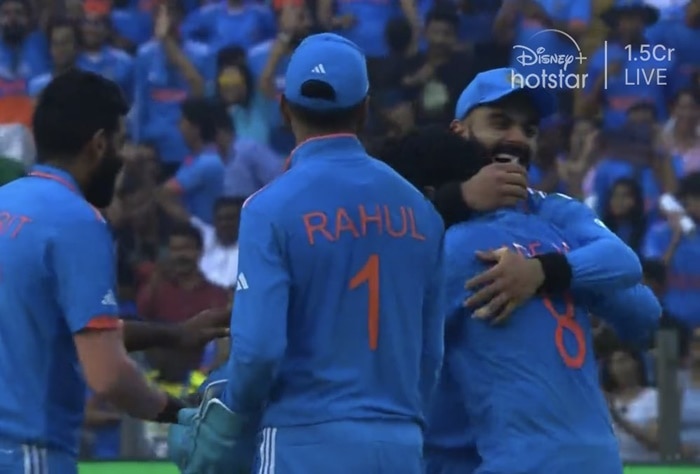 Ind vs Ban, ODI WC 2023: Jadeja gestured towards Virat Kohli that he should now get the best fielder medal after the outstanding catch.
Pune: Ravindra Jadeja was at his athletic best as he pulled off a stunner to send Mushfiqur Rahim packing in Pune on Thursday in an ODI World Cup 2023 match. Jadeja was at point and Rahim had cut the ball hard. The Indian all-rounder dived in the air to his wrong side and plucked it out of thin air. Jasprit Bumrah, the bowler was stunned to see Jadeja hold onto it as it was travelling. But what followed after the catch has hogged the limelight. Jadeja gestured towards Virat Kohli that he should now get the best fielder medal after the outstanding catch. Kohli went up to him and hugged him. The heartwarming moment is now going viral on social space.
WHAT A CATCH BY RAVINDRA JADEJA…!!!

– Sir Jadeja, The Best Fielder in The World.

– Jadeja asking for the medal from the fielding coach…!!! #INDvsBAN #CWC23INDIA #RavindraJadeja #indiavsbangladesh #TeamIndia #KLRahul #HardikPandya #ViratKohli #CWC2023 pic.twitter.com/qvoOOmpHiS

— ADNAN KHAN (@ADNANKHAN225557) October 19, 2023
Read More: Sports
Bowling in tandem, spinners Ravindra Jadeja and Kuldeep Yadav helped India fight back and restrict Bangladesh to 256/8 in 50 overs after openers Litton Das and Tanzid Hasan struck well-compiled half-centuries in Match 17.
Jadeja (2-38 off 10) and Yadav (1-47) sent back the two set batters and halted Bangladesh in their tracks by triggering a middle-order collapse. Bangladesh from 110/1 in the 20th over could manage a modest score after electing to bat first on a flat wicket that was expected to help their batters regain their form.
But the World Cup trend of middle-order collapses continued as Bangladesh could manage only 126/5 in the 30 overs between 11 to 40. They managed to reach a decent score thanks to a 36-ball 46 by Mahmudullah, who helped them score 67/3 in the last 10 overs.
For India, pacers Jasprit Bumrah and Mohd Siraj came back well in the death overs to claim two wickets apiece though the latter was a tad expensive at 2-60 off his 10 overs.
However, the major concern for India in the match was the ankle injury suffered by all-rounder Hardik Pandya, who managed to bowl only three deliveries before he twisted his ankle trying to field in his follow-through.
Bangladesh were off to a good start thanks to half-centuries by openers Das (66 — 82 balls, 7×4) and Hasan (51 0ff 43, 5×4, 3×6). However, they failed to capitalise on the platform the two openers provided.
With a flat pitch not helping the bowlers much, Das and Hasan negotiated the first five overs cautiously before wading into Siraj with Das hitting him for two fours in the sixth over, the first one off a short and wide delivery and then walking across the stumps to whip a length delivery on the off through the midwicket.