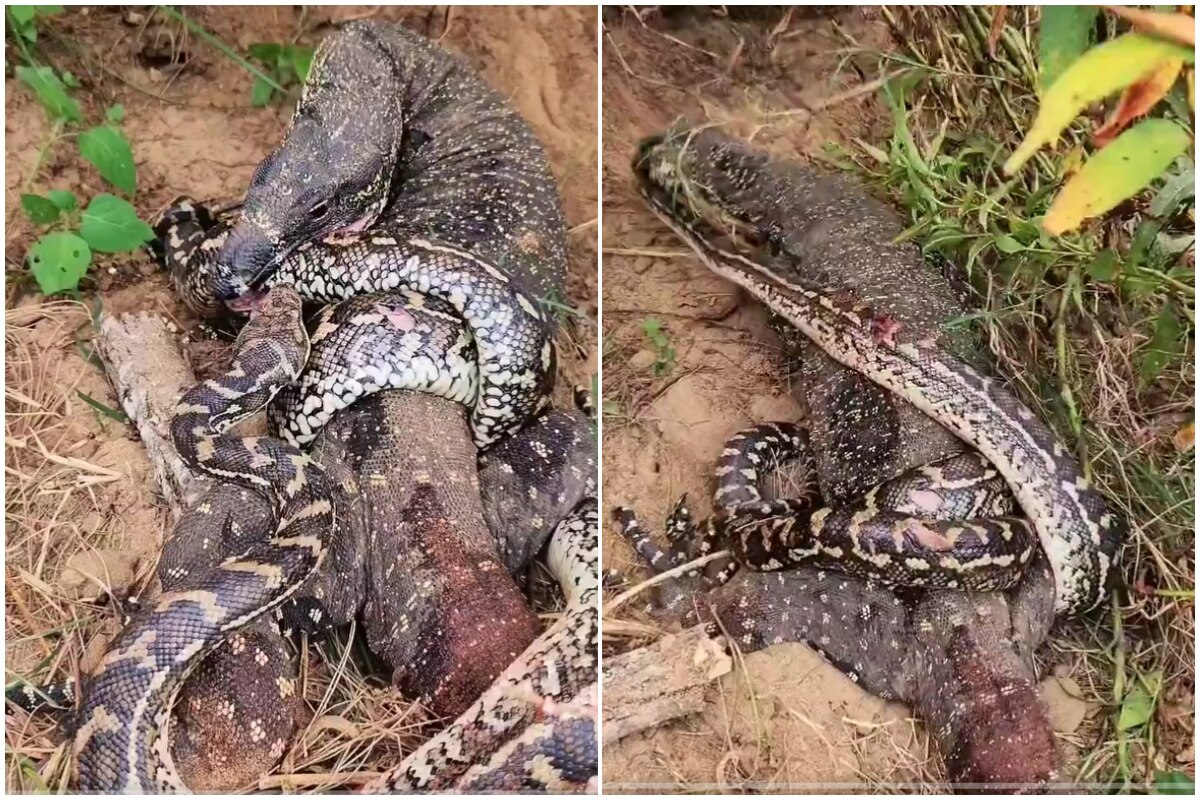 A huge python has wrapped itself around a big Komodo Dragon and both are engaged in a do-or-die battle.
Python Vs Komodo Dragon: The expression that we use mostly to describe a dangerous and threatening situation is "It's a jungle out there" and this video shows why. A huge python has wrapped itself around a big Komodo Dragon and both are engaged in a do-or-die battle. A fight to the finish, it's more than just a struggle, it's a matter of survival and no one is ready to give up.
Watch The Video Here
— Brutal Nature (@BrutaINature1) November 15, 2023
The video is shared on X by Brutal Nature @BrutaINature1.
That was a close fight and neither the python nor the dragon was willing to give up and rightly so, because as we said, it's about survival.
The video has received many comments. Sharing a few with you.
ugly_god @paa___kwesi: Fight for your freedom
Ali M @AliMj_: Who won? Nature is scary
Quentin Dub @quentinw___: So many questions
Nongalo, LindaMkhonto!✊@holanmc: Nature is truly a survival of the fittest
THE BUSINESSGUY @mabkonline: Hmm
Itok @anggitobw_: : i'll never surrender
Eng.Humphrey gazemba²⁵⁴ @Hgazemba: Typical Chelsea/Man City game.
Omary Kyutta @omary_kyutta: Komodo dragom always is best
Ñåmėlėżż@NamelezzSnr: Can't be me recording this
Martin @nelmatt_2: Who won?
Qhawe @PhilasandeQhawe:
Weneedmoreme @weneedmoreme: which dino to cheer for? Well….one less apple to be offered
AOHG @AOneHandedGamer: Good fight
ICEE @Donlybigwealth: @arojinle1
King ❤️ Memecoin @Omisakin_: You are busy making video when you should seperate the two brothers fighting
RELENTLESS✊@AleoghoM: @arojinle1 pls we need more detailed analysis of this clash.
Status Quo @Quest_Quell: Survival of the fittest
Dontrell should be smiling but you know….. @DontrellJS: Its crazy to think animals be fighting like this all the time
Hon. Maxi @XimamaMaxwell: Which one of them won?
Chikatam @DaveChikatam: Brutal war
@KeansoLala: They are both reptile and I guess the alligator might be immune to the snake venom if not it won't have survived it
Pūlupulu @jelemaaya: Lainna dipisahkeun malah divideo
Synthabilly @Synthabilly: Man what a battle. I think the bite force of the Komodo may have finished the snake at the end. Sometimes these snakes just go for the wrong prey
Dario @chanchochino: Which one of them is the doomed?
First son ‍⭐⭐⭐@anwanankak247: Who ki!!Ed who??
Baxtiyor@dusanov_10: Kimdir shu videoni koʻrib nima boʻganini aytib/yozib bersin pls
SulubaneK_kaMashobane @Sulubane_K: We must all fight for our freedom from the conscriptors!
Javier Salinas @JavierS39352966: Pobre viborita, ni las manos metió
ساکا @GM11_Gunner: Where is the rest ?