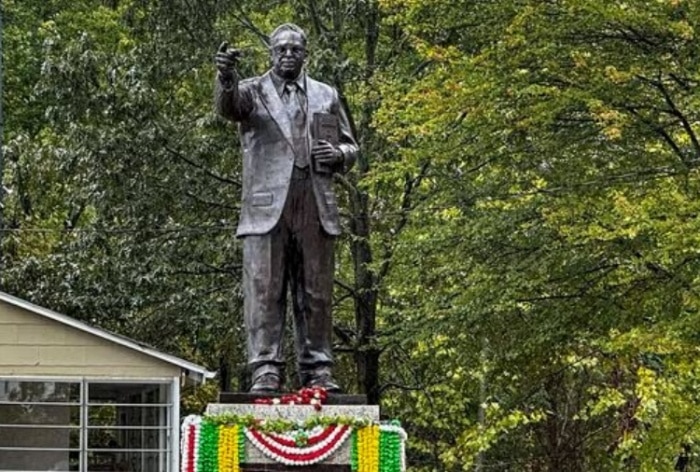 The 19-feet tall "Statue of Equality" in Maryland, Washington is the tallest statue of Dr B R Ambedkar to be unveiled outside India.
Washington: Loud chants of "Jai Bhim" reverberated in the Maryland suburb of US capital Washington as the statue of India's iconic social reformer and the principal architect of the Indian Constitution, Dr B R Ambedkar, was unveiled today.
Amidst deafening chants of "Jai Bhim", more than 500 Indian-Americans from various parts of the United States and some from India and other countries attended the unveiling ceremony of the 19-feet tall "Statue of Equality" in Maryland, Washington. It is the tallest statue of B R Ambedkar to be unveiled outside India.
Amid Jaibhim slogan, first Ambedkar statue unveiled in America 👏🏾🙏🏿💙 pic.twitter.com/fVE3foSDk7

— Nitin Meshram (@nitinmeshram_) October 14, 2023
Braving heavy rain and drizzle, enthusiastic participants, many of whom drove for as long as 10 hours to attend what they described as a historic event, took part in the inauguration ceremony while chanting slogans in favour of the Dalit icon.
The Statue of Equality has been crafted by renowned artist and sculptor Ram Sutar, who also sculpted the statue of Sardar Patel, called as Statue of Unity, and installed on an island in Narmada, metres downstream of the Sardar Sarovar Dam in Gujarat.
"We are calling it the Statue of Equality this (inequality) is not only the problem in India, everywhere (in) different forms (it exists)," Ram Kumar, president of the Ambedkar International Center (AIC) told news agency PTI after the statue unveiling ceremony.
Born on April 14, 1891, Dr Bhim Rao Ambedkar – popular among his followers as Babasaheb – was the chairman of the Constituent Assembly's most crucial Drafting Committee that earned him the moniker Architect of the Indian Constitution.
Spread over 13 acres, the AIC in Accokeek township, some 22 miles south of the White House, would consist of a library, convention center, and Buddha Garden among others.
"This is a great occasion to participate in the unveiling ceremony of statue of Babasaheb. This is the tallest statue of Babasaheb in America. ..After 75 years of independence, the people are realizing the works done by Dr. Ambedkar and that's the reason why day by day he's getting the popularity, people are now understanding him in a proper way.
"Earlier he was treated as a Dalit leader, but now the entire nation is recognizing his contribution of empowering the woman and for the marginalized society as well as the economic weaker sections," Ravi Kumar Narra, national president of Dalit Indian Chambers of Commerce and Industry (DICCI) said.
Narra, who travelled from India to attend the ceremony, said now all the developed nations have realized and also underdeveloped nations are thinking of implementing Ambedkar's ideology that a country cannot become rich and great unless each and every citizen gets empowered.
"The greatest economic policy advocated by Dr Ambedkar is now becoming the reality," he said.
The "Statue of Equality" represents 1.4 billion Indians and 4.5 million Indian Americans, said Deelip Mhaske from New York who leads the Ambedkarite movement in the US.
"Although this is completely done through community contributions, we received congratulatory messages from Prime Minister Narendra Modi and External Affairs Minister S Jaishankar stating 'Ambedkarite has put the foundation of Unified India in the USA and globally'," he said.
"This statue will not just inspire millions of Indians residing in the US but all communities including Black, Hispanic and others!" Mhaske said. "This is a historic step towards unifying the Indian-American diaspora and working towards making India a superpower not just in technology but also in social justice," he said.
Mahindra Rajwade, who drove for more than 10 hours from Kentucky to attend the statue unveiling ceremony, said this is a proud moment for all followers of Dr Ambedkar. "This is for the first time in the world that we are having such a tall statue of Babasaheb outside India".
The unveiling ceremony was followed by cultural performances by Indian-Americans from various parts of the country.
Celebrations post the unveiling of Dr Ambedkar's statue. pic.twitter.com/lw08c78bZI

— Ambedkar International Center (AIC) (@ambedkar_center) October 14, 2023
Elisha B. Pulivarti, president and CEO for US India SME Council, presented the US President's Lifetime Achievement Award to DICCI president Narra in recognition of his community service.
Post-Independence, Ambedkar was also the Minister of Law and Justice in Prime Minister Jawaharlal Nehru's first Cabinet. Ambedkar played a key role in social movements that fought for the rights of Dalits and untouchables.
Ambedkar died on December 6, 1956, months after he embraced Buddhism on October 14 that year, the date coinciding with the unveiling of the statue in Maryland. October 14 is celebrated as Dhamma Chakra Parivartan Din by Ambedkarites.
(With PTI inputs)