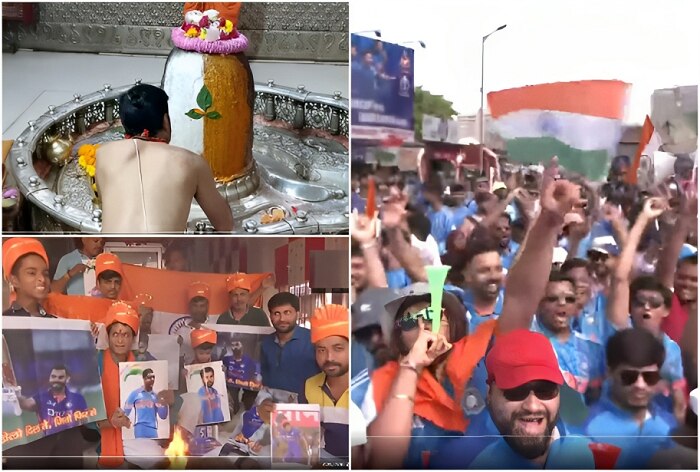 ICC CWC World Cup 2023: Indian cricket team is going to Pakistan at the Narendra Modi Stadium in Ahmedabad today. before this, India beat Australia in their opener before crushing Afghanistan in their second game.
Patna, Ujjai: The 'Men In Blue' are all set to lock horns with their arch-rivals Pakistan at Narendra Modi Stadium today at 2 pm. A massive gathering of Indian supporters, dressed in blue, gathered outside the Narendra Modi Stadium in Ahmedabad. People in Patna performed a special 'havan' for the thumping victory of the Indian cricket team. Special prayers were also offered at Ujjain's Mahakal Temple ahead of the World Cup match. Prior to this adrenaline-pumping showdown, India secured a victory over Australia in their opening match and then convincingly defeated Afghanistan in their second game. In contrast, Pakistan managed to overcome the Netherlands and Sri Lanka. Keep following DH for real-time updates on the highly-anticipated India vs. Pakistan match.
India vs Pakistan, World Cup 2023: Watch Havan Puja Here
India vs Pakistan, World Cup 2023: Special Puja at Ujjain's Mahakal temple
India and Pakistan are set to face off at the Narendra Modi Stadium in Ahmedabad on Saturday. The Men in Blue are eager to extend their seven-match winning streak against Pakistan, while the latter is determined to break their World Cup drought against Team India.
India kicked off their World Cup campaign with victories over Australia and Afghanistan, while Pakistan secured two wins in two matches, building momentum leading up to this significant encounter.
Fans are hopeful that India's cricket stars, including Virat Kohli, skipper Rohit Sharma, Jasprit Bumrah, KL Rahul, and Mohammed Siraj, will maintain their consistent performances, allowing the country to maintain an 8-0 winning record against Pakistan in 50-over World Cups, further solidifying their dominance in this rivalry.