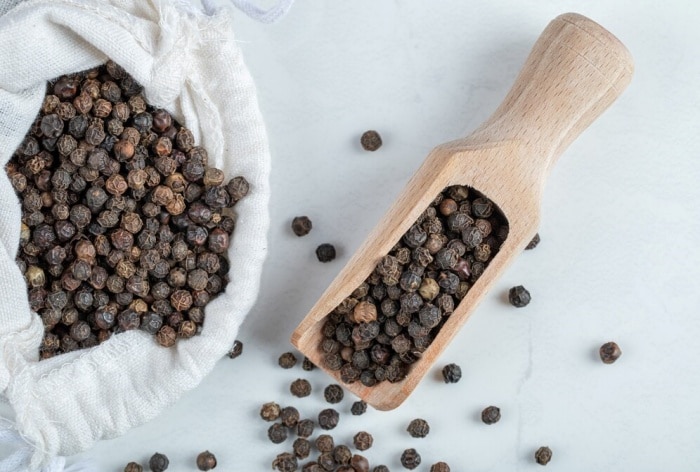 Black pepper or kali mirch has several health benefits to its name. This winter, add this condiment in your diet to drop kilos faster.
A pinch of this spice and the flavours change from bland to savoury in jiffy. Kali mirch is a household spice available right off the kitchen shelf. This king of spice makes up for a great addition in the winter diet. It not only has medicinal benefits to its name but may also help boost the weight loss process.
Black pepper is a common spice that is not only delicious but also has a number of health benefits, including potential weight loss benefits.
BLACK PEPPER FOR WEIGHT LOSS: 5 HEALTH BENEFITS
Boosts metabolism: Black pepper contains piperine, a compound that has been shown to increase thermogenesis, which is the body's process of generating heat. This can help to boost metabolism and burn more calories at rest. Therefore, it may further help to reduce fat as well.
Reduces fat cell formation: Studies have shown that piperine can also help to reduce fat cell formation. This means that adding black pepper to your diet may help to prevent you from storing excess fat.
Improves nutrient absorption: Black pepper can also improve the absorption of other nutrients, such as vitamins and minerals. This can help to ensure that your body is getting the nutrients it needs to function properly and burn fat efficiently.
Lowers food cravings: Black pepper may also help to suppress appetite. This is because piperine can increase the feeling of fullness after eating. This helps to lower the risk of binge eating or craving food that may not be as healthy a practise.
Anti-inflammatory properties: Black pepper has anti-inflammatory properties that can help to reduce inflammation throughout the body. Inflammation can contribute to weight gain and make it difficult to lose weight.
In addition to these benefits, black pepper is also a low-calorie spice that can add flavor to your food without adding extra calories. This makes it a great addition to any weight loss diet. It is important to note that black pepper is not a magic bullet for weight loss. It is most effective when combined with a healthy diet and regular exercise. However, black pepper can be a helpful tool to help you reach your weight loss goals.