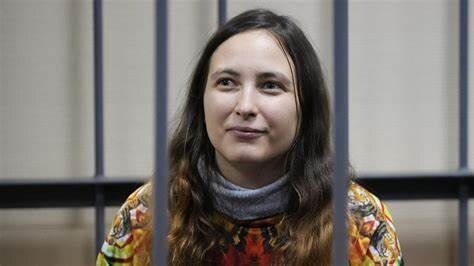 Artist and activist Aleksandra Skochilenko sentenced to seven years in prison for replacing price-tags in a supermarket with anti-war messages in Russia.
A court in Russia's second-largest city, St.Peterburg, has sentenced Aleksandra Skochilenko, a 33-year-old Russian artist, to 7 Years in prison for using price tags in the city store to distribute information about Moscow's full-scale invasion of Ukraine.
According to the court's press service, Skochilenko was found guilty on Thursday of "Public dissemination of deliberately false information about the use of the Armed Forces of the Russian Federation." The 33-year-old carried out the protest on March 31, 2022, replacing price tags in a supermarket in St Petersburg, Russia with five little pieces of paper urging an end to what Moscow calls a "special military operation".
Alexander Gladyshec, the state prosecutor asked a judge in St Petersburg to jail her for 7 years with a three-year ban on activities related to using "electronic or information and telecommunication networks," Skochilenko wore a colourful T-shirt with a large red heart printed on it. She made a heart shape with her hands and smiled at supporters during the hearing. She is the latest among thousands of Russians to be detained, jailed or fined for speaking out against Moscow's military intervention.
Alexandra Skochilenko Jailed For 7 Years For Using Price Tags in Anti-War Protest
Russian artist Aleksandra Skochilenko was sentenced to 7 years in prison for her protest art.

Artists and writers are targets of authoritarian governments for "the ability they have to promote independent thought," says @PSadovskaya2020

Our statement: https://t.co/R43rJ39FSl

— PEN America (@PENamerica) November 16, 2023
Skochilenko had said in an earlier hearing that she just wanted to stop the war. "Every person in this room wants only one thing: Peace. Why fight?" she said in a closing statement. She has been kept in pre-trial detention since April 2022, a period in which her health has been deteriorating, CNN reported citing independent newspaper Novaya Gazeta.
"How weak is our prosecutor's faith in our state and society if he thinks our statehood and public safety can be ruined by five little pieces of paper?" Skochilenko said in court. She has admitted to swapping the tags but denied that the text written on them was false. "Everyone sees and knows that you are not judging a terrorist. You're not trying an extremist. You're not even trying a political activist. You're judging a pacifist," she said.