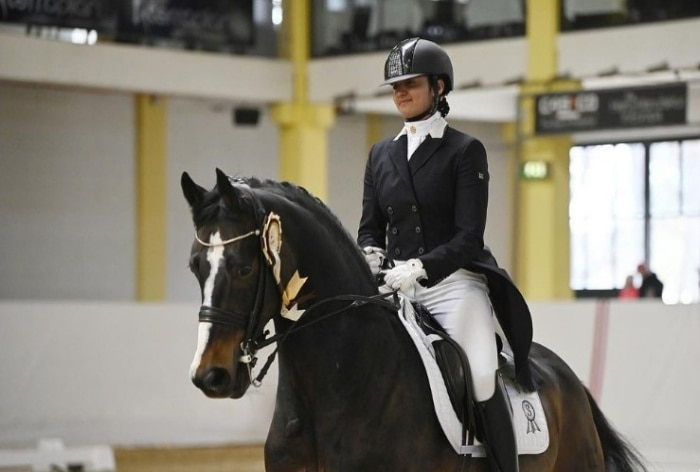 Divyakriti Singh Rathore, Indian Equestrian clinched a gold at the Asian Games 2023. This 23-year-old was right set on her dreams since the seventh grade and never stopped pursuing her dreams.
India is making and breaking records at the Asian Games 2023. From shot put to table tennis, the Indian contingent has now brought home 100 medals and counting. After 41 years Indian equestrian team bagged a gold at the Asian Games. The Indian dressage team included- Anush Agarwalla, Divyakriti Singh, Sudipti Hajela, Hriday Chheda.
Among the four, Divyakriti Singh Rathore has a different story to tell. The love for sports has been ingrained in her right from seventh grade. It sort of came naturally to her as riding for horses has a connection in the Rathore family.
MEET DIVYAKRITI SINGH, INDIAN EQUESTRIAN
Hailing from Jaipur, Rajasthan, Singh comes from a family where her father, great grandfather, all have indulged in sport activities like polo. With bling in her eyes, Rathore has always been preparing for equestrian. She dropped her training for two years when completing her education from Jesus and Mary College, Delhi.
Divaykriti had been training in cities in Europe – Netherlands, Belgium, Germany, Austria. She moved to Europe in 2020 to prepare for the Asian Games.
Speaking with India Today, Vikram Rathore, Divyakrit's father said," Divyakriti did not compete for two years while studying in Jesus and Mary College in New Delhi because she did not have a horse to compete on. In February 2020 she told me 'I am finishing my graduation and I would like to give it a shot for the Asian Games in the Indian team.' So, I said okay and Divyakriti and I went to Europe for horse shopping and we bought her a horse from Germany"
"There was success, there was failure. She used to have sleepless nights, she used to cry thinking what if she would fail. God was kind that she qualified with both horses and won the gold medal here," Rathore said.
The former army man said that he had to sell his house to support her daughter's dreams and would do it 20 times over to bring glory to her and his nation.