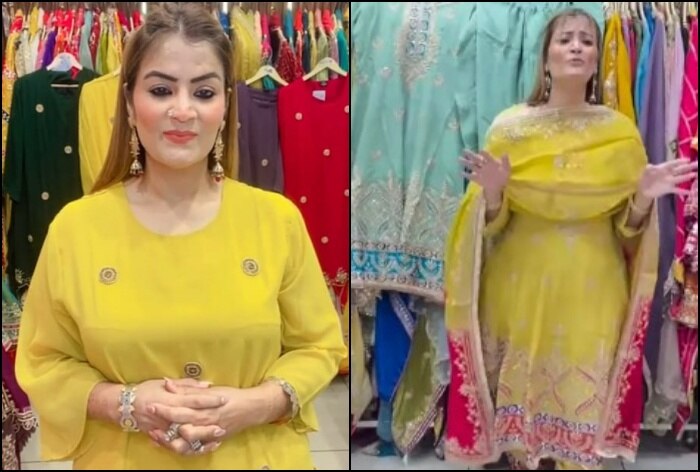 Meet Jasmeen Kaur, the boutique owner from Delhi who is became an overnight internet sensation it is looking just like a WOW!
All it takes is a line, a few words and action to make a trend on social media."So beautiful, so elegant, looking just like a wow!" This is the latest buzz in the meme town. But who is this mother of this dialogue that has reached out ht the account of Bollywood celebrities as well? Jasmeen Kaur from Delhi is a boutique owner.
Who is Looking Like a WOW Lady, Jasmeen Kaur?
One Instagram Live was all it took to turn Jasmeen into an overnight internet sensation. Going about her usual business, Jasmeen was describing one of the traditional outfits from her collection. That's when she said, "so beautiful, so elegant…just looking like a wow," and immediately went viral.
Her tone and expression made her dialogue stand apart and soon celebrities like Deepika Padukone, Ranveer Singh and Nick Jonas were seen hopping on the trend.
Kaur handles her business along with her daughter and has been running it herself for the past 18 years now. Hindustan Times quoted Jasmeen about her work," Bahaut achha lag raha hai, jiska koi ant nahi hai. I have been doing Insta lives for three years now, and suddenly I went viral. And now even Priyanka Chopra's husband has said it (singer Nick Jonas) I am feeling wow. My life has changed. I am just giving back to back interviews. Itni mehnat ke baad meri life mein yeh boost aaya hai."
"People spot me and say 'namaste' or 'sat sri akaal', some say 'arre WOW wali didi' But I run my boutique myself, it's very famous here. Manage karte hain jaise bhi karke. I used to get paid collab requests too before this, but now the entire world wants to collab with me. I will continue to do my Insta lives for my colourful suits, I do one almost every day. Pata nahi waqt ka, kya pata main kuchh aur aisa word bolun ki voh bhi viral ho jaaye,"
Spreading joy with laddoo peela and mouse colour, the rest is history with Jasmeen !