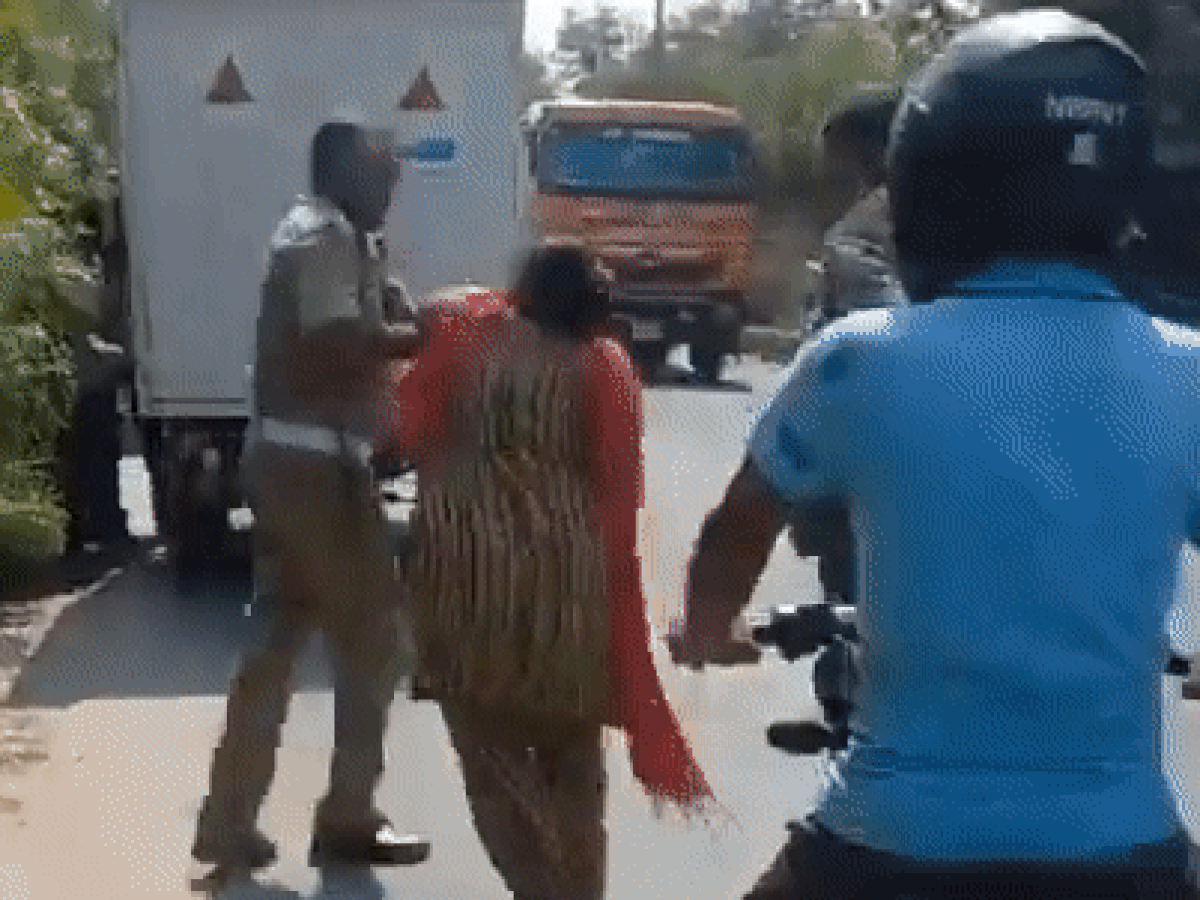 The woman e-rickshaw driver thrashed a policeman after he asked the driver to move back her e-rickshaw in Ghaziabad.
Ghaziabad: A video has emerged on the internet showcasing a female e-rickshaw driver allegedly assaulting a traffic policeman after he asked her to move her e-rickshaw. The female driver, identified as Mithilesh, was arrested on Wednesday, and her e-rickshaw, which was operating without a registration number plate, was seized. The video clip of the incident has gone viral on the internet like wildfire. The incident took place on Tuesday in Ghaziabad when traffic cop Vijay Kant Singh, accompanied by head constable Dilip Kumar, asked the woman to relocate her e-rickshaw as it was causing a traffic jam, according to the police.
The woman got offended and started thrashing the cop with her footwear. She also damaged a wireless set by throwing it on the road, police stated.
Woman e-rickshaw driver Thrashed traffic cop: Watch Video Here
उत्तर प्रदेश गाजियाबाद के NH9 कनवानी पुस्ता रोड पर ट्रैफिक पुलिस कर्मी दरोगा से ई रिक्शा चालक महिला भिड़ी आपस में जोरदार मारपीट की गई जिसमें हाथ चप्पल जूते सब चले pic.twitter.com/17CouYyVTN

— Mαɳιʂԋ Kυɱαɾ αԃʋσƈαƚҽ 🇮🇳🇮🇳 (@Manishkumarttp) October 11, 2023
According to Additional DCP (traffic) Ramanand Kushwah, Mithilesh used abusive language, brandished slippers and fled away from the scene.
Traffic SI Singh and Head Constable Kumar refrained from responding aggressively, according to his statement. The woman's actions also resulted in her pushing Singcausing him to fall onto the road and sustain injuries to his back, as reported by the police.
थाना इंदिरापुरम क्षेत्रान्तर्गत एक महिला ई-रिक्शा चालक द्वारा यातायात उ0नि0 के साथ अभद्रता किये जाने सम्बन्धित सोशल मीडिया पर वायरल वीडियो के सम्बन्ध मे एसीपी यातायात की वीडियो बाइट ।@Uppolice pic.twitter.com/Qsde0zOkq4

— POLICE COMMISSIONERATE GHAZIABAD (@ghaziabadpolice) October 10, 2023
An FIR was filed against the e-rickshaw driver, invoking multiple sections of the Indian Penal Code, including 332 (voluntarily causing hurt to deter a public servant) and 353 (assault or the use of criminal force to deter a public servant from the discharge of their duty). Singh, in his complaint, pointed out that a video clip capturing this incident had gone viral on social media, adversely impacting the reputation of the police department.